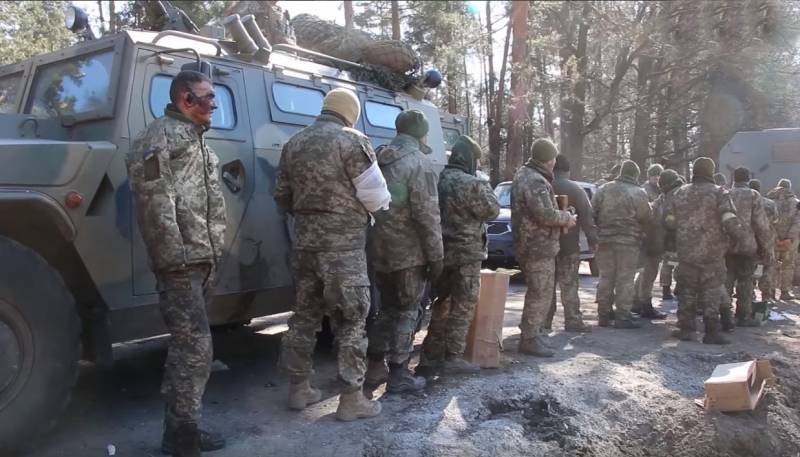 Russian troops carry out pinpoint and massive strikes against the places of deployment and combat positions of the nationalist troops using ground-based missile platforms, ship launchers, artillery and
aviation
, including unmanned aerial vehicles. In particular, the destruction of the KR "Caliber" of the weapons depot in the Zhytomyr region near the village of Velikie Korovintsi is confirmed as a result of their launch from sea carriers.
Ukrainian media report the destruction of another MiG-23 on March 29, together with the fighter flight commander - this is one of the last vehicles that remained in service with the Air Force of the Armed Forces of Ukraine.
In Mariupol, hostilities are taking place in the Central District of the city. Given the dense development and the desire of the Russian command to prevent civilian casualties and destruction, the main attack forces are
Tanks
and infantry. The main task at the moment is to divide the Ukrainian troops and national battalions into small groups and isolate the nationalists in the industrial zone. After that, it will be possible to strike at them with a massive strike by artillery and aircraft. It is possible that it will take several days to eliminate the remnants of the enemy troops in Mariupol.
Numerous reports are being received about the demoralization of the enemy in the Kiev direction against the background of an acute shortage of food, fuel and ammunition. There is an increase in the number of fighters who voluntarily laid down
weapon
, and those taken prisoner after withdrawing from combat positions. Near Kiev, senior officers of the Armed Forces of Ukraine are surrendering en masse, while in the Donbass they preferred - as long as time allowed - to try to retreat from the battlefield, abandoning the units entrusted to them.
The number of combat systems at the disposal of the Armed Forces of the Russian Federation and the troops of the republics in good condition is increasing. Including rather rare products of the Ukrainian defense industry, such as the T-72ATM tank, small-scale models of armored vehicles, appear in the form of trophies.
Activists of the former regime in places are trying to oppose the change of power, including with weapons in their hands. However, the well-coordinated work of military units (and later commandant's offices) and specialized departments does not make it possible for neo-Nazis to expand their activities when occupying new settlements with the RF Armed Forces. At the same time, the fight against organized crime is being carried out, which has tightly grown together with the Kiev regime on the ground. In particular, such work has begun in Kherson, where weapons and letters of thanks from extremist groups were found in the house of one of the criminals.
At the same time, efforts were made to provide the population of the settlements taken under control with everything necessary.