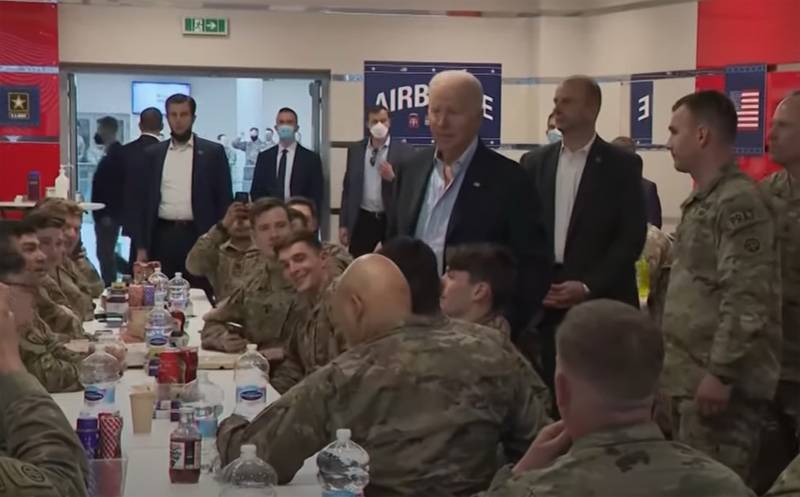 The press service of the White House had to explain about the words of US President Joe Biden, said in front of American troops in the Polish city of Rzeszow. Recall that today the US President arrived there - formally for negotiations with his Polish counterpart Andrzej Duda. In general, Biden spent quite a long time in communication with the American military against the background of the fact that the plane with the President of Poland, for reasons not yet announced, urgently returned to Warsaw airport some time after being sent to Rzeszow.
Biden, finding himself in the central part of the hall among the US military, said that a difficult situation was developing in Ukraine, and suddenly added that the US Army servicemen would be able to see for themselves.
The President of the United States to the American military:
You can see it yourself there.
After such a statement, the reporters immediately asked the White House press service for a comment, does Biden's statement mean that he is going to order the US military to go to Ukraine? The press service of the President of the United States said that Joe Biden "didn't mean it."
From the "clarification" of the press service of the White House:
The position of the US administration in this regard has not changed. American troops will not be sent to Ukraine.
In this case, the question hangs in the air, what did Biden mean then? Some experts suggest that Biden wishful thinking. Others are sure that the 46th President of the United States "mixed something up again." There are those who believe that Biden either let slip about the future plans of the US Army, or even "in this way sent a signal to Moscow."
Recall that earlier the Russian Defense Ministry repeatedly stated that if the army of any country intervenes in the conflict in Ukraine, this country will automatically be considered as a party to the conflict with all the consequences.
Biden made his statement that the US military will see with their own eyes what is happening in Ukraine after eating pizza with the soldiers in the army canteen.