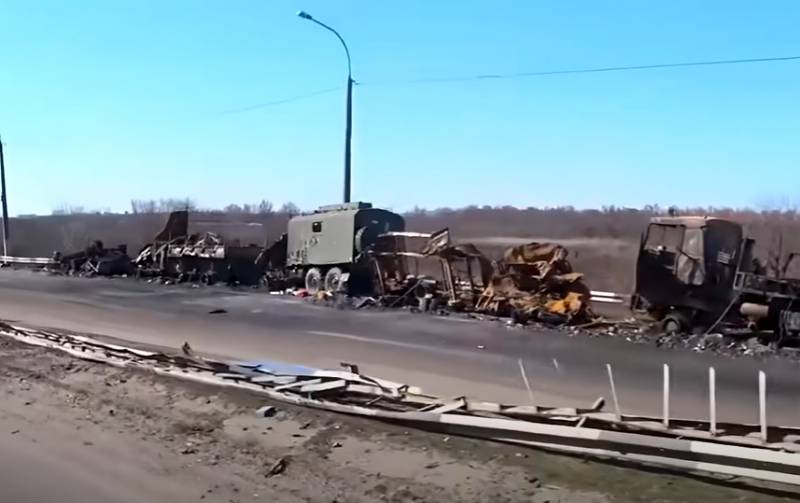 Image is illustrative
First and foremost
news
from the Ministry of Defense on the events in Ukraine - by the morning of March 24, Russian troops had completely established control over the city of Izium in the Kharkiv region of Ukraine. This city was of strategic importance in terms of the further advancement of the Russian army. Before the start of the military operation in Ukraine, a little over 46 people lived in Izyum. This is an old city with an interesting
history
, which more than once found itself in the center of the hostilities of the Russian army.
The day before, it was reported that the northern part of Izyum had been taken, that Ukrainian troops were trying to fight back south of the Seversky Donets within the city.
Further, the Ministry of Defense of the Russian Federation revealed the facts of the involvement of the US military in the development of biological
weapons
in Ukraine. The relevant facts were revealed by specialists of the RCBZ Troops of the Armed Forces of the Russian Federation. In the near future, the Ministry of Defense will present original documents on the U-P-2 project, which was implemented in Ukraine with the participation of the Pentagon.
Also, the Russian Defense Ministry reported that a pharmaceutical company, closely associated with the US Department of Defense, was testing drugs on ... Ukrainian military personnel. That is, the soldiers of the Armed Forces of Ukraine acted as experimental material.
Konashenkov also spoke about the military successes of the Russian army: for example, during the night of March 23-24, 60 military facilities on the territory of Ukraine were hit. Russian air defense systems shot down 2 unmanned aerial vehicles in the areas of the settlements of Staraya Markovka and Kharkov. It was possible to hit 13 launchers of air defense systems of Ukraine.
In total, since the beginning of the operation, the Russian Armed Forces have destroyed 257 UAVs, 202 anti-aircraft missile systems, 1
tank
and other combat vehicles of the Ukrainian army.
A number of military facilities of the Ukrainian army were destroyed by Su-34 aircraft of the Russian Aerospace Forces. Aircraft bombed ground targets from medium heights. After the strikes, the bombers returned to their home airfields. Video footage of attacks on military depots and places of accumulation of military equipment of the Armed Forces of Ukraine has appeared on the Web.