Far away
Russia may withdraw from the World Trade Organization. What kind of idea is this - the nonsense of the madmen from the Just Russia faction or a trial balloon? After all, at Zhirinovsky, for example, in the State Duma they ran in and not like that. Let's try to figure out if this makes any sense at all.
Today it is fashionable to blame Russia for all sins, and at the same time to exclude it from wherever possible. We have already written how "square" turned out to be outside the brackets (
Independent outside brackets
), whose inhabitants Europe simply could not wait to receive with open arms. However, following this out of the brackets Russia turns out to be somehow bad.
G-7, Council of Europe, some parliamentary assembly or another UN will try? You can, of course, ban sports and culture, even cancel the Russian language somewhere in your country, but there's nowhere else to go. Russia has shown its ability to resist, the ability to act preventively, and now it seems to be for a long time, perhaps forever.
After the hot confrontation, there will certainly be peace, most likely, interspersed with excesses, which suits our geostrategic opponents quite well. Unfriendly countries, as we have now written them down, by all indications only hurried us with integration in order to get one more satellite.
Obedient already because he was bound hand and foot by rules, in the writing of which he could not participate by definition. This is the fundamental difference not only from the WTO - the World Trade Organization and a number of international parties, from the same UN or, for example, the IAEA.
In practice, it turned out that those very "rules of the game" are regularly used according to the well-known principle of the Italian mafia: friends - everything, the rest - the law. And it was set that way from the very beginning.
Readers have the right to ask, but what about the many years of bargaining before the entry, which was conducted by Russia? Firstly, he only created the impression that they met us halfway and provided us with a fairly high status. Clearly higher than the one that would really correspond to the then state of the Russian economy.
Nobody except us?
As a result, having assumed a lot of restrictions, Russia did not open all the markets for itself, primarily in developed countries, and received practically nothing in return. More precisely - in fact, she was forced to open wide the doors to her own market.
We have the negative consequences of such decisions now, and the notorious structural changes in the economy are still nothing more than a dream, it is no coincidence that the president once again spoke about them. Distortions in sectors have not gone away either, the process of de-industrialization, seemingly suspended, has simply taken on other forms.
Instead of relying on the most advanced of the industries, Russia was squeezed out into the list of countries most suitable in terms of locating screwdriver industries. In terms of raw materials, our enterprises, as a rule, are allowed only primary processing, and even the relatively successful agricultural sector, and it is precisely with the WTO, is addicted to imports.
The strongest incentive to turn the Russian industry into a real hostage of foreign regulators was the vicious practice of bringing Russian tariffs to the standards of the World Trade Organization.
This not only hits the pockets of domestic consumers and permanently whips up inflation, but also puts Russian industry, as well as agriculture, in non-competitive conditions. At the same time, there have been almost no real attempts to use at least what the WTO rules allow for Russia during its membership.
Why? It is better to ask those who are responsible for interaction with the WTO. No, there were individual cases, and even very revealing ones, but if only in favor of specific enterprises of one of the specific oligarchs.
.net integration
When joining the WTO, which happened only nine years ago, we were assured that
"Russia cannot stand aside from the processes of economic globalization, remaining on the sidelines of world progress."
It's from a government memorandum.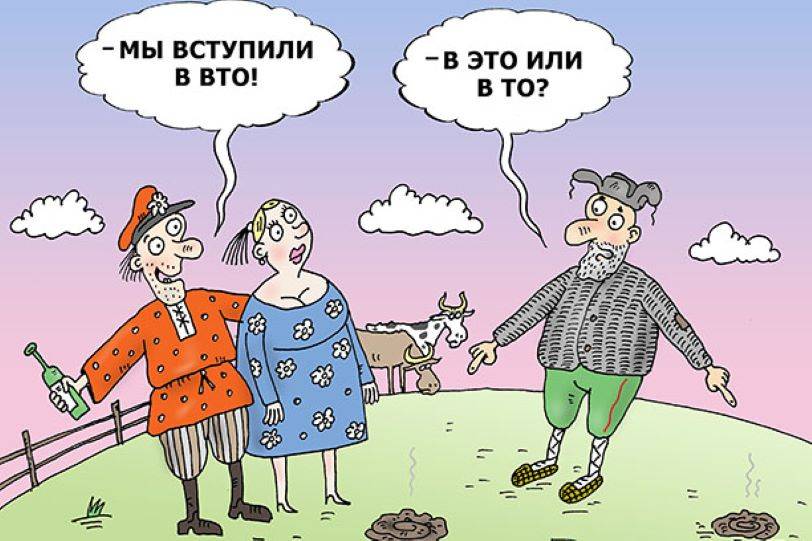 Has anything improved since then? And this question should also be asked to the same characters. The answers will definitely not be intelligible - gentlemen officials know how to blur along the tree.
Back in 2013, the Russian share in world exports reached 2,8%, which is not bad at all given our comparable contribution to world GDP. But by 2017, primarily due to sanctions pressure, it had dropped to 2,0%. And no WTO norms, like membership itself, have protected us from anything.
Although we received and receive regularly from the same WTO regarding the retaliatory food embargo. And duties, and fines, and also sanctions. And if Russia has some serious achievements in recent years, then certainly not thanks to support from the WTO.
But contrary to this, you are welcome, as much as you like, although many infrastructure projects, in addition to the Crimean bridge, should have been implemented much earlier. The same second branch of BAM would be very useful now. That is why the unexpected initiative of A Just Russia to leave the organization seems very constructive to the author.
Arguments like that without WTO membership Russia will not be able to sell industrial products are weakly convincing. What we can really offer for export will be torn off with hands, especially in third world countries. The rest will come in handy.
Who is behind us?
Russia, let's not flatter ourselves, in many areas is still very far from the notorious industrialization 2.0. But the domestic market is far from oversaturated with simply vital industrial products. Until recently, he was busy with imports, but now he may well free himself.
Niches for domestic producers that have not yet been completely destroyed by the "WTO rules" can open up very widely, or they can only open up a little. It all depends on the political will in the first place. It exists, and there is no doubt about it, if only the bureaucracy - "integrators" and "globalists" do not blur it out.
Prior to recent events, the share of equipment and vehicles in the composition of imports to the Russian Federation reached 45-47%. It is clear that they will continue to supply something to us, something will be replaced, but there is a real opportunity to close almost half of such a niche by ourselves.
Russia's exit from the WTO will not be a blow to anyone, except for this office itself. But the domino effect, when partners in the EAEU and a number of countries that, due to membership in the organization, fell under outright discrimination, immediately follow Russia, is very likely.
And let them scare us with the danger of losing markets, while remaining in the WTO, you can forever remain in the role of a raw materials appendage with missiles. Forget about industrialization, which they have already tried to replace with screwdriver "candle" factories, thereby covering up impudent protectionism.
Focusing first of all on your own domestic market, you can not only get off the oil needle, but also get rid of dollar dependence. And at the same time, to remain an economic leader, both in the regional segment and in the industry - such plans as curtailing the nuclear or space industry, as Yabloko and DemRussia did in the 90s, can no longer be offered to us.