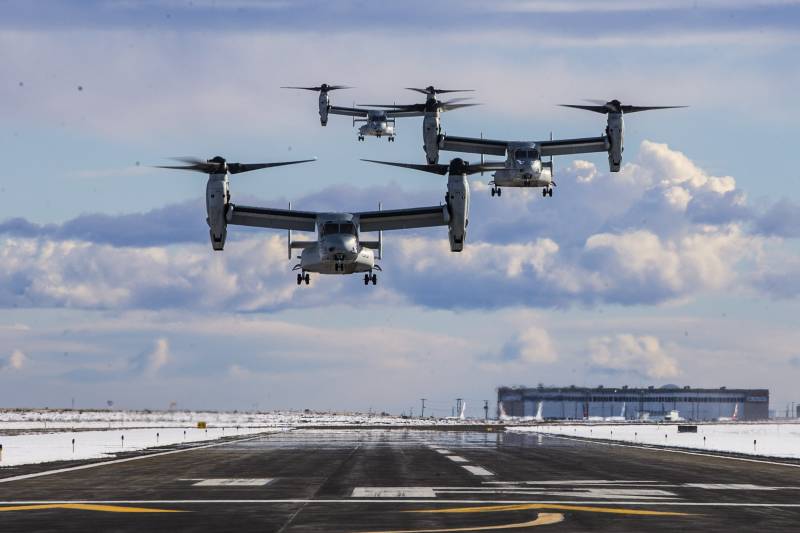 Western countries decided to demonstrate military solidarity with Russia by organizing troop maneuvers near its border. The Cold Response 2022 exercises, which are held in Norway, act as factors "restraining Moscow".
As the high command of the alliance believed, the deployment of troops near Russia would show the Kremlin the readiness of Western countries to organize a "friendly" rebuff to a possible attack on NATO countries. However, an increase in the combat readiness of forces carries the risk of an increase in the accident rate of equipment that serves the interests of "partners".
As stated in the message of the US Department of Defense, as part of the exercises conducted in Norway, the tiltrotor Osprey MV-22B disappeared from the radar of ground observation stations. It belonged to the US Marine Corps, the cause of the accident is being investigated, but it is already talking about technical malfunctions of the machine associated with "difficult weather conditions." At the same time, the stated combination of factors sounds strange: after all, what was the reason - weather conditions or a malfunction? ..
At the moment, the Norwegian authorities have confirmed the fact that the tiltrotor with the US Army personnel on board crashed. It is known that the losses of the American contingent of the Marine Corps participating in the maneuvers amounted to 4 servicemen.
In total, NATO intends to deploy 30 fighters in Scandinavia, showing, as explained in the General Staff, the possibility of delivering a strike in the north-western direction with conventional weapons. Although, given the practice of Washington to refuse any agreements that are inconvenient for it, "conventionality" gets a rather vague framework.