The Swedish edition of Expressen published an article by reporter Magnus Falkehead, in which he talks about a missile and bomb attack on a military unit in the Nikolaev region. Previously, information about this strike appeared on social networks, but there was no confirmation. Now they have appeared.
The material says that the blow was inflicted on a military facility near the Solian district. According to the latest data, at that moment there were at least 200 Ukrainian servicemen and representatives of the so-called territorial defense battalions – terbats – at the facility.
First, there was information that the losses of the Ukrainian side amounted to 40 servicemen. After some time, the Swedish reporter published a statement that dozens of representatives of the national battalions and the Armed Forces of Ukraine were under the rubble. According to Falkehead, the total losses could amount to about 90 percent of the personnel of the military unit in the Mykolaiv region.
One of the surviving Ukrainian soldiers said that several dozen managed to hide in the basement. However, the explosions were so powerful that they did not particularly save the representatives of the Ukrainian armed formations.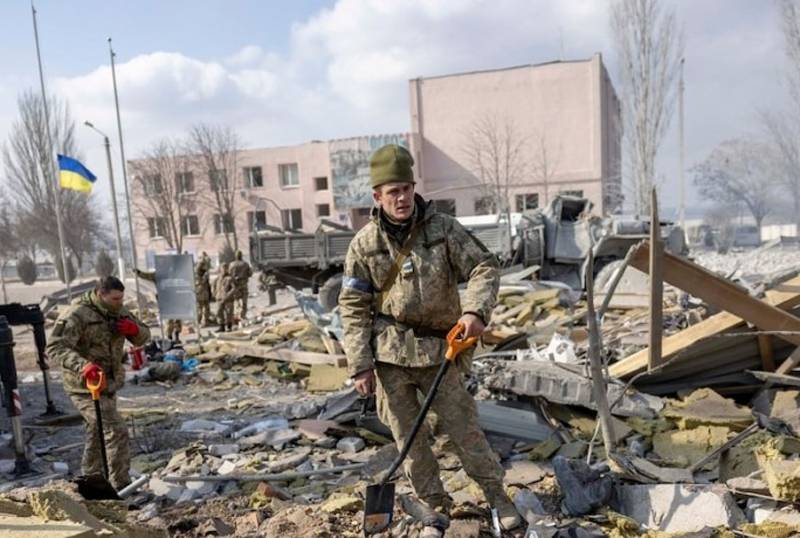 According to some reports, the military facility in the Mykolaiv region belonged to the 79th Air Assault Brigade (Dshb) of the Armed Forces of Ukraine. The mobilized terbatovtsy were also trained there. These units were especially hoped for by the head of Nikolaev, Vitaly Kim, who usually went on the air with an incomprehensible smirk and constantly threatened Russian troops. In one of his broadcasts, Kim, being in a windowless room, even offered the Russian military, located a few kilometers from Nikolaev, to surrender or flee. Earlier, the same Kim was so pleased with the large number of foreign journalists who arrived in the Nikolaev region. One of these journalists, it just so happened, covered the defeat of part of the 79th brigade of the Armed Forces of Ukraine.
The Ukrainian side today says that the strike was carried out by Russian bombers. The Ministry of Defense of the Russian Federation has not yet commented on this.