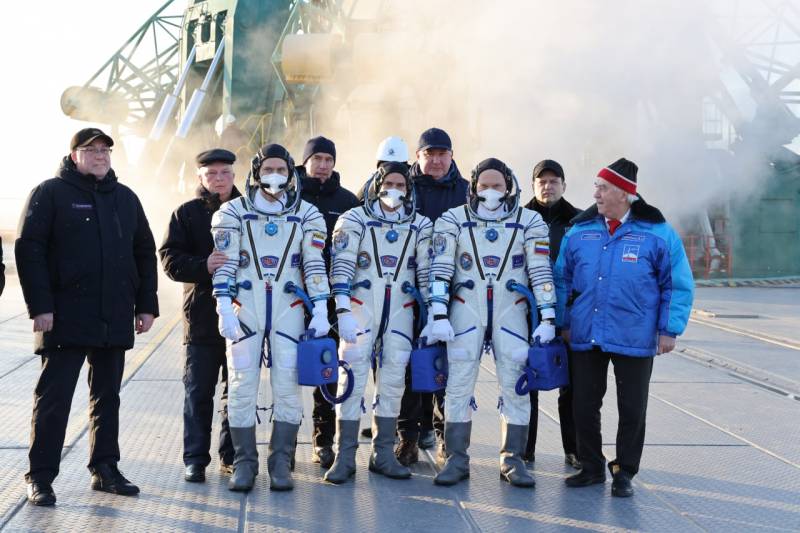 Roskosmos today sent a new crew to the ISS, a Soyuz-2.1a launch vehicle with the Soyuz MS-21 manned spacecraft S.P. Korolev was launched from the Baikonur Cosmodrome. The ship was put into orbit on a regular basis.
The rocket was launched at 18:55 Moscow time. time, after the estimated time Soyuz MS-21 was launched into orbit. The launch, stage separation, launch of the manned spacecraft into the target orbit, as well as the deployment of antennas and solar panels took place in the normal mode. The spacecraft's flight to the ISS is in a two-orbit orbit, docking will be carried out to the nodal module "Prichal" of the Russian segment of the ISS. As stated on the Roscosmos website, the docking is scheduled for 22:05 (±3 min).
It is emphasized that this launch is special, for the first time in the history of the ISS, a crew consisting entirely of professional cosmonauts - Oleg Artemiev, Denis Matveev and Sergey Korsakov - has been sent to it. The last time three professional cosmonauts went into space was in 1998 on the Soyuz TM-28 spacecraft.
Currently, there are seven people on the ISS, including two Russian cosmonauts - Anton Shkaplerov and Petr Dubrov, four NASA astronauts - Mark Vande Hai, Raja Chari, Thomas Marshburn and Kayla Barron, as well as European Space Agency astronaut Matthias Maurer.
On board the Soyuz MS-21, in addition to the crew, there are hygiene products and materials for experiments, consumables for the station, clothes and personal belongings of the astronauts, as well as fresh food and standard food rations.