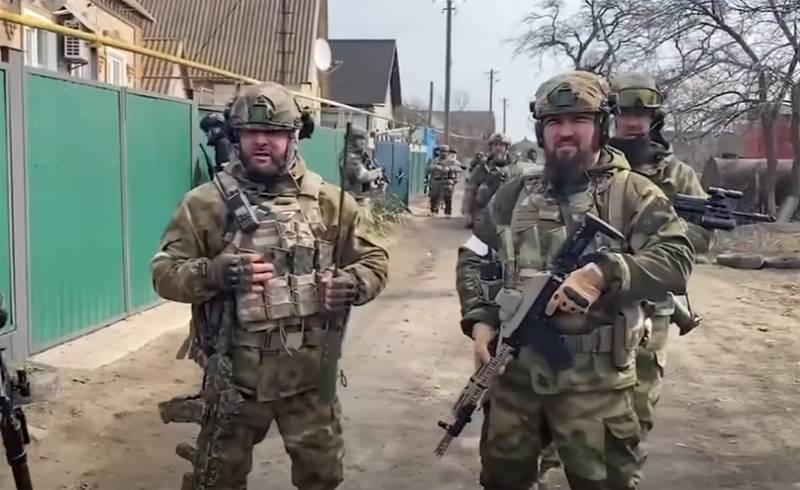 The head of Chechnya, Ramzan Kadyrov, commented on certain difficulties that arose during the liberation of Mariupol from the armed national battalions.
According to Kadyrov, the situation was complicated by the fact that in Mariupol, a unit of Russian special forces found itself surrounded by encirclement in the quarters of the city. It was cut off by militants from the main forces carrying out a cleansing operation in this large city.
The head of Chechnya noted that the militants, who had encircled the Russian special forces, offered them to lay down
weapon
and surrender, however, as Ramzan Kadyrov writes, the special forces, being surrounded for several days, fought until the encirclement was broken.
The head of Chechnya said that the operation to release the special forces unit was carried out in direct coordination with Supreme Commander Vladimir Putin.
As a result of the breakthrough of the encirclement in the quarters of Mariupol, the nationalist units suffered serious losses and were forced to hastily retreat to positions in other quarters of this city.
Ramzan Kadyrov pointed out that the special forces soldiers who held out, being surrounded, were personally thanked by State Duma deputy from the Chechen Republic Adam Delimkhanov. He personally participated in the coordination of the actions of the assault units.
Kadyrov:
Each fighter will be presented with an award.
Recall that over the past day, about 320 civilians were evacuated from Mariupol to the Rostov region.
The entry of a Russian special forces unit into the ring in the urban areas of Mariupol indicates that the Ukrainian national formations continue to coordinate actions among themselves - there is communication and operational control of actions in the city. Accordingly, there are at least power points. Such points can be ordinary car batteries. In this case, it will be difficult to do without disrupting the system of operational communication between the militants of the national battalions.