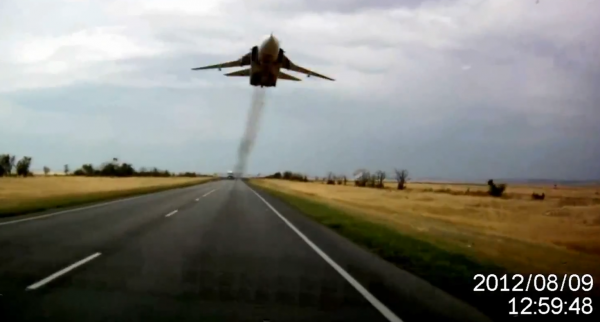 Commander-in-Chief of the Russian Air Force Viktor Bondarev forbade pilots to frighten people after a couple of videos appeared on the Internet with a Su-24 bomber and a Mi-8 helicopter flying at ultra-low altitude over highways. However, Bondarev does not intend to punish his subordinates for the recklessness.
"You know, as the commander in chief, having seen this on TV, I had to immediately sever everyone and everything, and restore justice," said the commander-in-chief at a press conference. Immediately after it became known about the incident, an inspection was carried out: it turned out that flights at ultra-low altitude were carried out according to the combat training plan and the pilots did not violate the charter, Bondarev said.
"There are exercises for both the crew of the Su-24 aircraft and the helicopter's crew, who instruct them to work out piloting techniques at extremely low altitudes - up to 50 meters. On this basis, the crew trained and performed what was prescribed to it, ", - quotes General RIA"
News
".
At the same time, Bondarev assured that from now on Air Force pilots would not fly like that. "We, naturally, took measures to prevent further similar incidents. This is not to limit the piloting height, as we need pilots prepared for all combat conditions. We simply changed the piloting routes, piloting zones, the route crossing order, if it will fall in the way of the flight, "the commander-in-chief emphasized.
Two video recordings from car recorders showing low-flying Su-24 and Mi-8 appeared on the Internet in September. The first video posted a resident of Tomsk. In early August, a man traveled with his wife and two daughters to the Sea of ​​Azov. Near the farm Svetly Horn of the Volgograd region on the M21 highway over his car at an extremely low altitude flew a combat Su-24.
The second entry was made in the area of ​​the city of Kamensk-Uralsky. The video shows how a Mi-8 helicopter flies over the Yekaterinburg-Kurgan highway at ultra-low altitude.