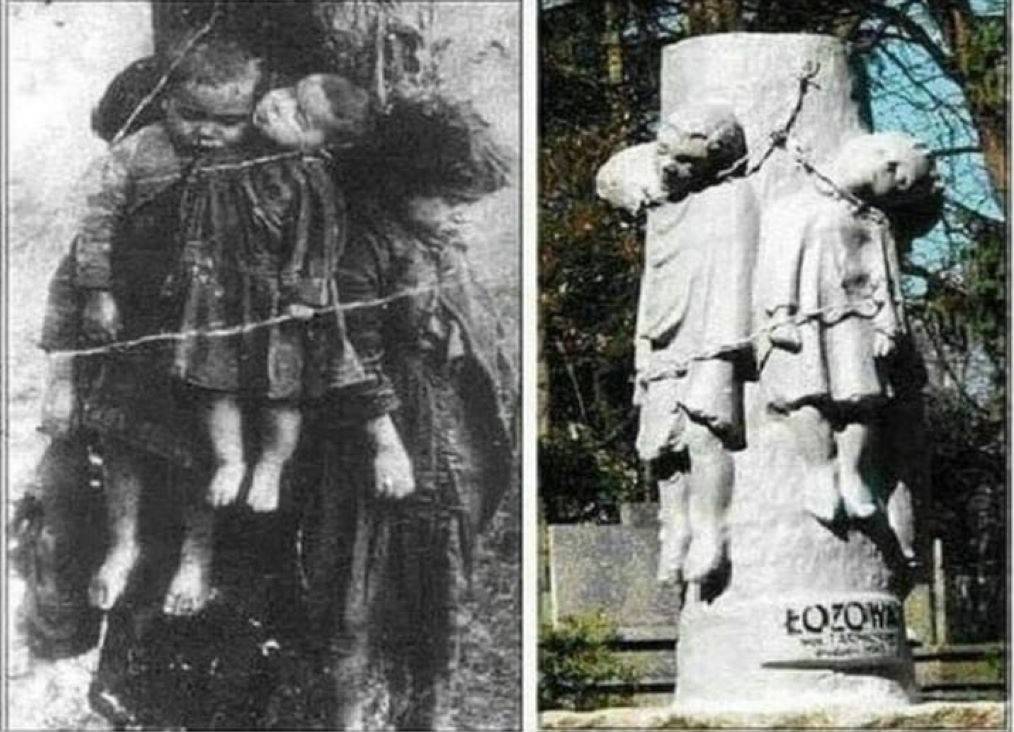 For the first time I saw this photo a very long time ago - as a boy, in the days of a happy Crimean vacation with my parents and brother in Evpatoria. My father was fed up with the fact that on the terrace in the reading room I was so carried away by the magazine "Perets" - the Ukrainian understudy of "Crocodile", and he offered me a book about partisans.
About how they crossed the border of the USSR and ended up on Polish soil. In that book there was this double photo, along with others, just as terrible - about the massacre in Volyn. This picture was actively replicated in Soviet propaganda, although the partisans could not see the monument made from the first photo.
On the Internet, the photo, as it turned out, is controversial, or rather, not indisputable, it just walked around, including on Polish resources. And I came across my eyes more than once, and for many years it did not cause any doubts.
It also inspired the sculptor to create a monument to the victims of the Volyn massacre, which was erected many years later. And today it is hardly worth looking for that book from Yevpatoria - really an agitation, and even with errors.
In the very old picture with traces of a break mistaken for barbed wire - the children of a crazy gypsy, frightened by the dispersal of the camp and the expectation of starvation. It was she who hung them back in 1923, and to say and write that the photo about that massacre is, of course, a fake.
Yes, and barbed wire is also a fake, still of that time, which became possible by no means by accident. Polish historians, who studied the circumstances of the "Volyn massacre", counted about 125 methods of killing, which were used by the "cutters" in their reprisals. A normal person's blood runs cold from one description of these methods of murder.
But for some reason, the monument itself is now listed as a fake. However, the Volyn massacre itself is not a fake, and hundreds of other photos about it, perhaps not so replicated, are not fake either. But in his recent article, the author used the same photo, the authenticity of which for many years had no doubt (
"Remember everything. From boycott to divorce
).
I'm ready to admit my mistake, because I wasn't going to check it either - I found a solid source. But thanks to inquisitive readers - corrected. Well, Zhvanetsky from Odessa did not say in vain - it is necessary to be more careful. And we will!
And instead of a fake, we publish only one guaranteed verified photo about those events. Watch and don't forget. Such oblivion is not subject to.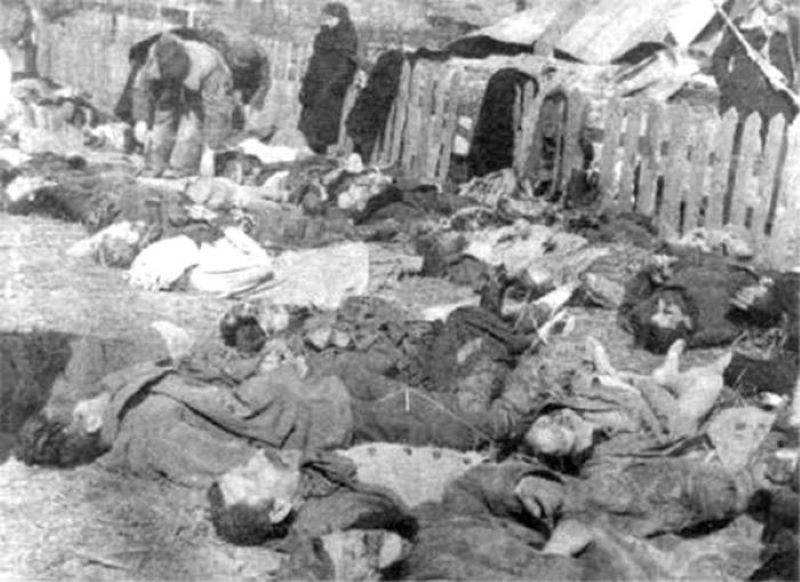 Poles - victims of the OUN (b) action on March 26, 1943 in the now defunct village of Lipniki