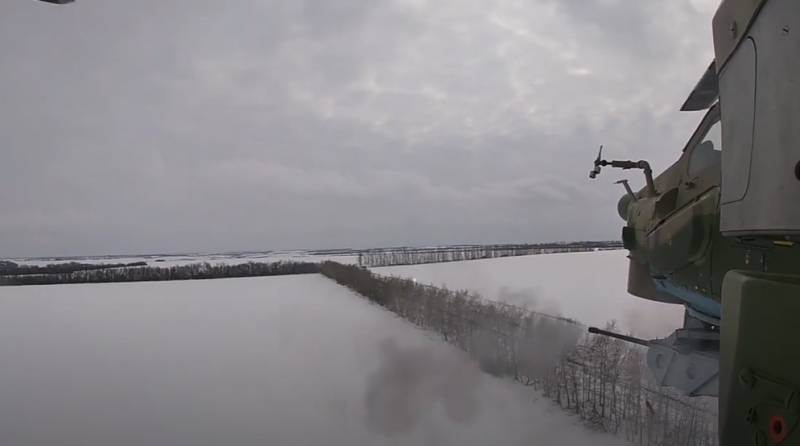 Russian troops continue to conduct a military special operation on the territory of Ukraine. For 14 days of its holding, the Ukrainian regime lost control over more than a quarter of the country's territory. The main losses of territories are in Kiev, Kharkov, Kherson, Zaporozhye, and Mykolaiv regions.
The Russian Defense Ministry demonstrates the work of the army
aviation
as part of a special operation. The "fresh" snow that has fallen on a number of territories of Ukraine makes it possible to better view the forest plantations in which small groups of armed representatives of the terbats are trying to hide in order to organize ambushes. It was from such landings in the first week of the special operation that Ukrainian DRG sorties were carried out, which used anti-tank weapons against Russian columns.
weapon
. They could act on the principle of Afghan militants, knocking out the head and rear cars of the column, after which the drones could continue the strikes. In a number of cases, this sabotage tactic worked, despite the fact that it was theoretically possible for equipment from the middle part of the column to leave the blocked area through the fields.
Now the crews of Russian helicopters, flying over forest plantations, not only identify Ukrainian armed National Battalion soldiers in them, but also inflict (in the event of such a detection) air strikes on them, eliminating sabotage groups. Often enough machine-gun fire. When a sufficiently solid position of the Ukrainian military is revealed in a particular forest plantation, a volley is fired from an aircraft gun. The position is destroyed by several NURSs.
Of course, additional difficulties may arise when the time comes for the first greenery to appear.
The Ministry of Defense demonstrates footage of the use of combat helicopters, including on military equipment that the Ukrainian armed formations are trying to transfer.