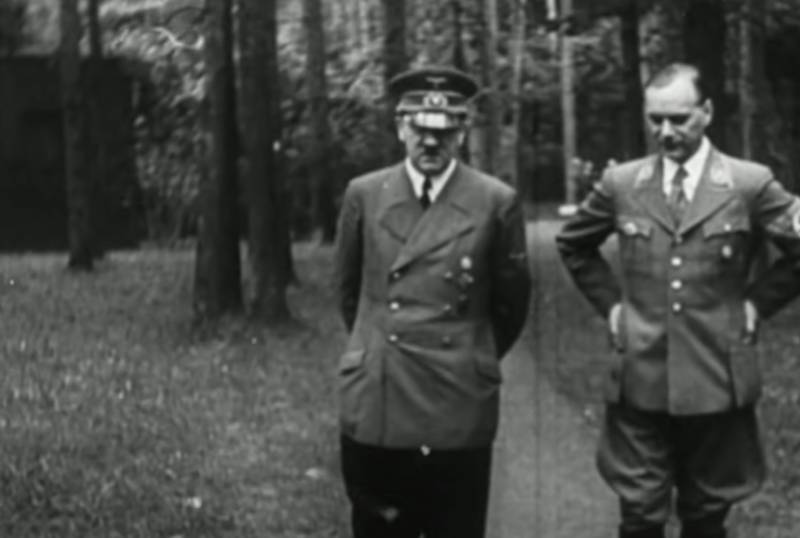 Rosenberg walking with Hitler
One of the ideological concepts of Nazi Germany was to destroy the Soviet Union from within. To implement this concept, they tried to use the plans that were personally prepared by Alfred Rosenberg, a native of the Russian Empire, who did not digest everything Russian.
In 1941, it was he who was appointed Minister for the Occupied Territories in the East. And it was he who began with particular zeal to implement plans to pit the peoples of the USSR against each other. One of the "ideologemes" is to push the population of Ukraine against the population of Russia. This, as followed in the master plan, should have allowed the Third Reich to easily take control of the territory of the Soviet Union.
According to Rosenberg, in the end there should not be any Reich Commissariat Ostland, and all Ostland controlled by this Reich Commissariat "should forever become part of the German Reich."
According to the policy pursued, the then German intelligence decided to make a special bet on Ukrainian nationalists, on collaborators of all stripes. Those, as it is commonly believed today in Ukraine itself, allegedly fought for Ukrainian "independence". But neither then, nor now, Ukrainians were told about the works of Rosenberg, according to which no independent Ukraine would exist under any circumstances. It just wasn't part of Germany's plans.
About Rosenberg, his programs and attempts to implement them, as well as the trial and execution, is described in the plot "Digital
stories
", which presents the Long Nuremberg project authored by Yegor Yakovlev: