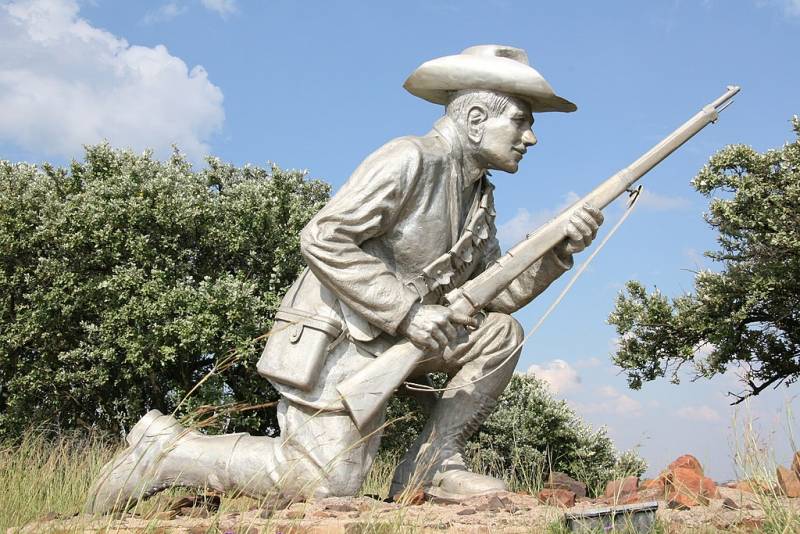 Monument to Dany Theron at Fort Shanskop
"This child is a real devil, he is worth a whole regiment!
It's the damned Captain Rip-Head, the commander of the scouts...
Live, live! All the cavalrymen you have at your disposal, into the saddle!
In an instant were bridled and saddled thirty horses.
And so the mad chase began...
Louis Boussinard: "Captain Blow Your Head"
Unknown Wars.
So, the first round of the battle between the two Boer republics against the British Empire ended in victory for the latter. And, in principle, this is how it should be: wars are not won by border states, even if volunteers help them. Only in the event that another empire stands behind the back of a small state: then - yes, it will be possible to talk about something else.
But this was not the case with the Boers. The German Empire did not stand up for them, and Holland was too weak to protect the descendants of its colonists somewhere far away in Africa. However, without a doubt, the Second Anglo-Boer War, which began in 1899, stirred up the entire world community of that time. And, of course, most people were on the side of the Boers. The refrain sounded from the pages of the newspapers: "a small and proud people are waging war against a huge empire for the right to live the way they want!".
It is not surprising that volunteers from various countries of the world went to southern Africa, by the way, including Russia. The French writer Louis Boussinard also took the side of the Boers, who even before the end of the war published the best-selling novel "Captain Casse-Cou" (Le Capitaine Casse-Cou, 1901). In Russia, and then in the USSR, it was published and republished several times, and the editions of the 50s came out with wonderful graphic illustrations by Anatoly Kokorin (1908-1987).
In this novel, the young French hero demonstrates miracles of courage, gets into incredible troubles, but always emerges victorious from them. Reading this novel, people for the most part considered all this fiction and only a few at that time knew that the character who became the prototype of Jean Grandier from the novel is actually a real person, and his name was Daniel Johannes Stefanus Theron, and he is real, not fictional, the hero of the Boer War!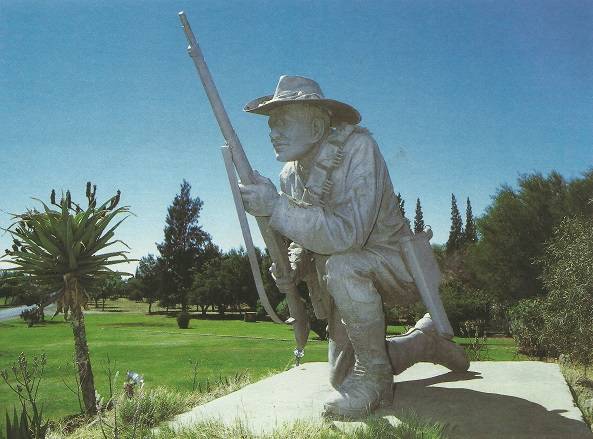 The same statue from the other side. Two Mausers at once - that's cool!
Dani was born in Talbach, in the Cape Colony, on May 9, 1872, the ninth of 15 children in a family. His original home on Church Street is now a B&B and at the same time
historical
Museum. At the age of only 10, he had to leave his father's house and move to an older half-brother in Bethlehem in the Orange Free State. From there he went to Cape Town, where in 1889 he passed the schoolmaster's examination. He worked as a teacher in Neutgedacht and the Southpansberg district until he took a position as a clerk in a law firm in Pietersburg in 1893.
He wanted to become a people's lawyer, and this goal he achieved in 1897, when he passed the exam in Pretoria with the highest possible marks. In the same year, he opened his own law office in Krugersdorp and immediately became actively involved in politics. Theron was a supporter of General Piet Joubert, although he sympathized with President Paul Kruger. When Moneypenny, editor of The Star, published several derogatory articles about Krueger and the Boers in his newspaper, Dani Theron appeared at his office and demanded that he retract his words. He did not listen to him, and then, Theron beat him. The court sentenced him to a fine, which was collected by his supporters right in the courtroom. Theron also infiltrated the Rend Club to gather information about the Reformers gathering there and the planned Jameson raid.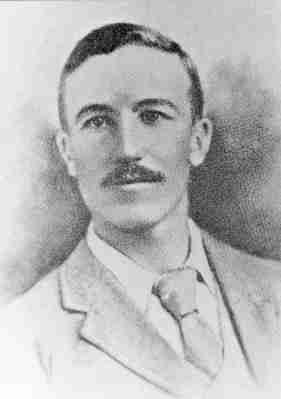 This is how he was in real life...
Dany Theron first encountered military action back in 1894, when he was drafted into the Boer commando for the war in Malaboha. In battles, he showed courage and ... received Transvaal citizenship for her. Interestingly, the experience of participating in hostilities prompted him the idea of ​​​​using bicycles in war. At that time, the bicycle was in vogue. In England, Australia and New Zealand there were bicycle divisions, Theron decided that the bike was good for more.
Well, when the war broke out, Theron, along with his friend and cycling champion Joost Joost, proposed to the Transvaal government to give them permission to create a bicycle corps. They say that we will save the horses for the battle, and the cyclists will perform auxiliary functions in the army. He met with President Kruger and Commandant-General Joubert and proposed a contest between cyclist and rider to finally decide who wins.
And Joost took part in the 75-kilometer race from Pretoria to Crocodile River and ... won it. After which Dani Theron received permission to form a cyclist unit and immediately began placing advertisements in the newspapers of Johannesburg and Pretoria that he invited young Boers to join his unit. Soon there were 108 people in it, reduced to seven divisions led by their lieutenant. Each fighter was given a bicycle, trousers (shorts), a revolver, and sometimes a light gun, which was attached to the bicycle frame. Theron appointed himself the "commander in chief" of this detachment.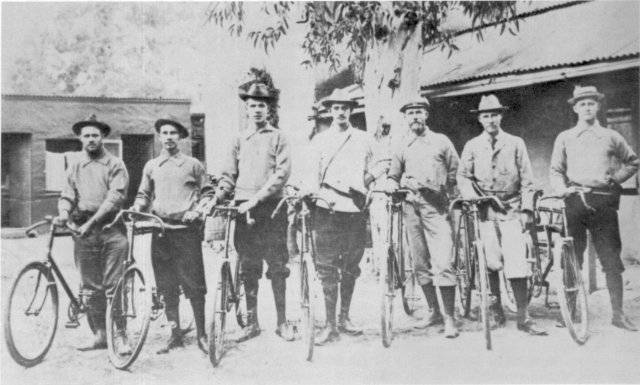 Boer cyclists scouts. Military Museum, Bloemfontein, South Africa
On September 9, 1899, the detachment began to carry out special operations. Before the outbreak of hostilities, cyclists were used to patrol the borders of Swaziland, they delivered reports and mail. Many Boers, just as described in Boussenard's novel, initially looked down on the "bicycle corps". But they soon changed their minds after the battle of Talan (Dundee) turned out to be the majority of the 246 British soldiers captured that day.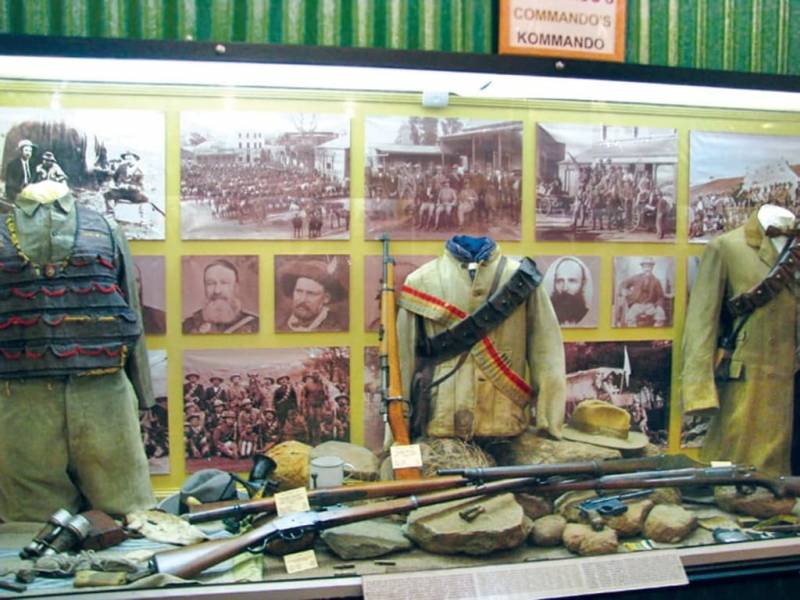 Exposition of the Military Museum in Bloemfontein, South Africa
When General Kronje was surrounded by British troops near Pardeberg, General Christian de Wet developed a plan to save him. But it was necessary to get to him through the British positions and notify him of the impending operation. And de Wet sent Theron to him. He managed to get to the besieged Boer camp and informed the general about the impending cavalry attack on the British positions, which was supposed to break through the British ring and help Cronje get out of the encirclement. However, Cronje refused to follow this plan, and Theron again had to make his way through the lines of the British to notify de Wet!
When he returned, he reported that Cronje had abandoned the plan. And just two hours after his return, on the 10th day of the Battle of Paardeberg, General Cronje and 3 of his fighters surrendered to Lord Roberts.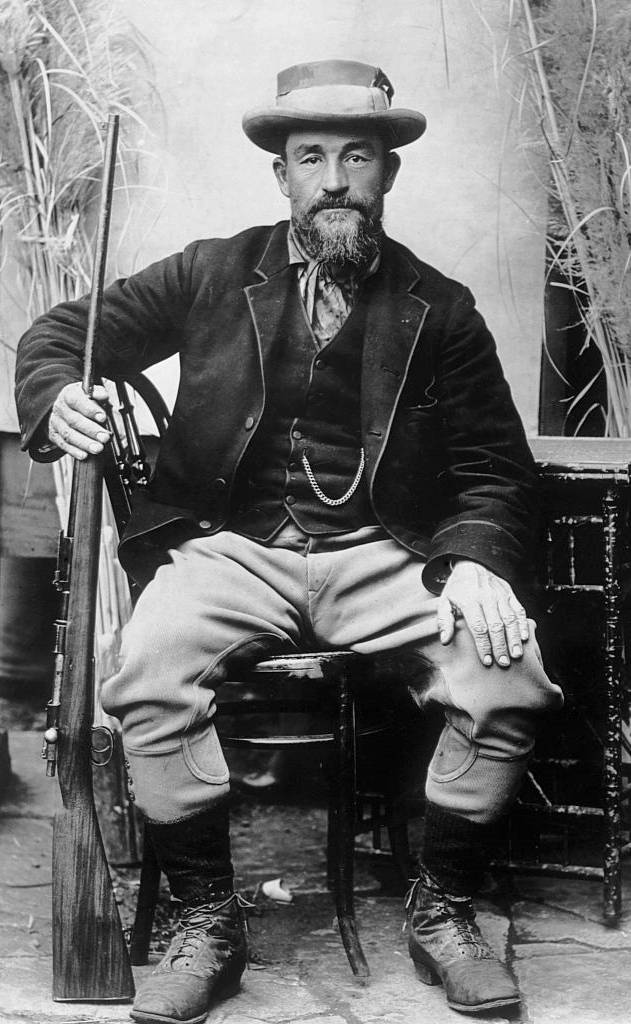 General Christian Rudolf de Wet (1854–1922)
De Wet later wrote in his memoirs:
"... Dani Theron, the famous cyclist captain, arrived at my camp the day before. I asked him if he would deliver my oral message to General Cronje - I dared not send a written message lest it fall into the hands of the British. Immediately came a proud and determined answer, the only answer a hero like Dany Theron could give: "Yes, General, I'll go." The risk I asked him to take was very great. I took him aside and told him that he should go and tell General Cronje that our fate depended on his escape, as well as the salvation of his soldiers, and that if he fell into the hands of the enemy, then it would be death ... a blow to all our hopes. Theron was to persuade Cronje to do so that very night and meet me at one of the two named places where I could protect him from English persecution.
Dani Theron has taken it upon himself to go through the enemy lines and relay my message. On the night of February 25, he went to carry out my assignment. The next evening I went to the meeting place, but to my great dismay, General Cronje was not there. On the morning of February 27, Theron returned. He accomplished a feat unparalleled. And on the way there, and on the way back, he crawled past the British sentries, tearing his trousers to tatters in the process. Blood flowed from his knees where the skin had been torn off. He said that he saw the general, but he said that he did not think that the plan I proposed had a good chance of success.
By ten o'clock on the same day, General Cronje surrendered to the British. My disappointment was bitter. Alas! My last attempt was in vain. The stubborn general didn't want to listen to good advice."
(Taken from The Three Years' War by General H. R. de Wet)
In March 1900, General de Wet commissioned Dany Theron to create his own intelligence unit, Theron's Intelligence Corps (RCT). In doing so, Dani Theron was allowed to freely recruit men of his choice from both Boer republics. General de Wet once said that he had never seen a more colorful group of men from all over the world than the RKT. The corps consisted of about 80 people on horseback and was supposed to be engaged in reconnaissance and participate in partisan actions.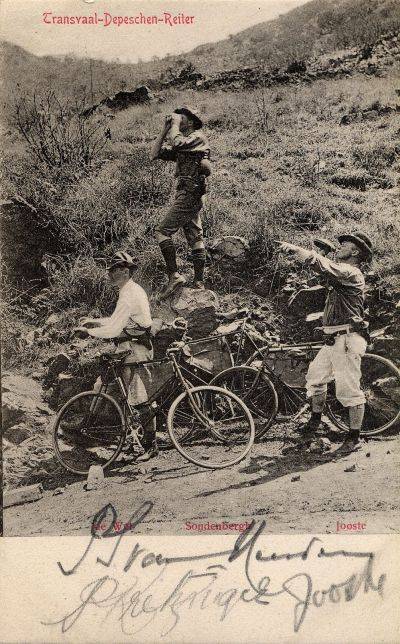 Theron Intelligence Corps at work
In the novel "Captain Break the Head" the latter is bred by Boussenard as the embodiment of all conceivable and inconceivable virtues. His living prototype in this regard was not a "leaf hero". For example, he was very impatient and very demanding. He demanded a lot from himself and from his people, and was known for his very tough, albeit fair leadership style. People were afraid of his temper, but respected his honesty and recognized his intellectual superiority. And they were ready to follow him to hell and… back.
Among his combat operations, some are similar to those described by Boussinard, but some are completely unique. Thus, it was he and his men at Glen Siding, north of Bleomfontein, who destroyed the railway bridge and there took four British officers (!) and one soldier prisoner.
At Kari Siding, Captain Dany Theron and 17 of his men fought against General Tucker's vanguard of about 400 British soldiers and held them back for a full day. British losses from their fire amounted to 30 killed, 155 wounded and ... 5 missing.
As a result, the British commander-in-chief, Lord Roberts, called Dany Theron "the main thorn in the body of the British offensive" and placed a £1 bounty on his head - dead or alive. Considering that a maid in Natal received only from one to one and a half pounds a month, then this is just a huge amount!
At a council of war in the Chamber of Deputies in Pretoria, Dani Theron delivered a fiery speech, calling anyone who thinks about peace a coward and a traitor. And Generals Stein, de Wet, Smuts and Botha decide that the honor of the Boer people requires a war to the death. Dany Theron and his men then capture three British field guns and destroy their crews during a skirmish at Buchan Kop near Lindley.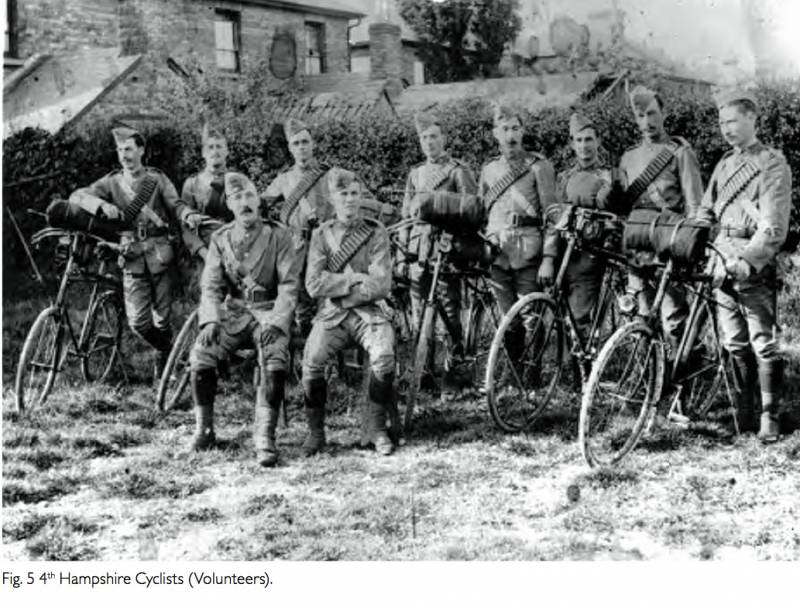 Opponents of Theron's corps are British cyclists!
General Broadwood, with about 4 British troops, attacks Dany Theron and his men. The battle breaks up into a series of skirmishes. Theron's losses were eight killed, the British losses five killed and 000 wounded.
Next on the account of Dany Theron and his people is the capture of a British train. After a little shooting, Theron disarmed and captured 102 Welsh gunners on this train. Moreover, he personally took care of the wounded British soldiers and even shared his last water ration with one of them.
For all these exploits, General de Wet promoted Theron in rank. Now he has become a commandant!
It was Dany Theron and his men who derailed the British train carrying US Consul General Colonel Stowe at Holfontein Siding. In violation of US neutrality, Stowe attempted to hide two British intelligence officers in his private carriage. But this did not save them from captivity.
At the Battle of Tygerport, General de Wet's field guns on top of a steep wooded hill near the Van Wuurenskloof Pass were in danger of being lost due to the advance of Lord Methuen's troops. Dani Theron and 14 of his men, with great effort, dragged these guns by hand to safety down the hill, losing only one wagon of ammunition in the process.
Dani Theron and 10 of his men entered the occupied city of Rudeport and robbed the railway station. After that, Commandant Theron and his men storm the Klip Riviere prison southwest of Johannesburg and free 69 prisoners, most of whom immediately joined his commando.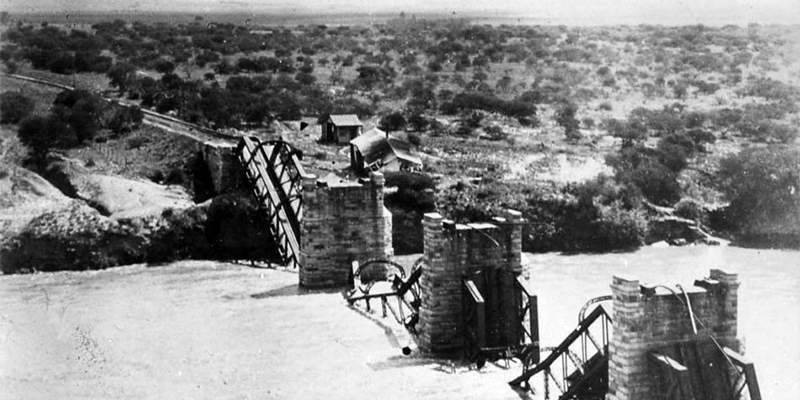 Exploded bridge over the Waal river
Bussenard's novel has an "open ending", we do not know what fate awaits Captain Rip-head, and ... we hope that this time he will succeed and he will remain alive and return to France with his friend Fanfan-Tulip. But this is a book...
In life, however, everything was completely different, and the real Dani Theron actually died.
While in Hatsrand, he decided to attack General Hart's column. Theron went on a solo reconnaissance mission and ran into seven British cavalry about six kilometers north of present-day Fochville. With well-aimed shots, he killed three and wounded four Englishmen. But many other riders were looking for shots, who, with joint efforts, immediately attacked the hill on which he sat down. Apparently, the British decided that there were many enemy soldiers there, since Theron fired a lot and often from there, and they deployed the artillery of the column against him: six field guns and one 4,7-inch naval gun. It was in this veritable hell of lyddite and shell fragments that Theron died (taken from The Boer War Chronology by Peter G. Cloet).
Here the British buried him, but on September 15, 1900, the soldiers of the detachment exhumed the body of their brave commander and reburied him at the family cemetery of the Pienaar family near Fauchville.
And on March 10, 1903, the last will of Dany Theron, set out in his will, was fulfilled. His body was reburied next to that of his beloved late fiancée Hanni Nietling, who died of pneumonia shortly before their wedding, on her father's farm on the Klip River. The great hero returned to the one he loved all his life. Their souls united in heaven!
On December 28, 1907, Generals Botha and Smuts unveiled a monument to Dany Theron near Potchefstrom so that the people for whom he gave his life would remember the hero.
And on March 6, 2002, former South African President Nelson Mandela unveiled a new monument to Dany Theron outside the Union building in Pretoria. It was one of the very rare occasions when Mr. Mandela spoke Afrikaans in public. In his speech, the former president praised Dany Theron's fighting spirit, his integrity, courage and determination to fight for his people and his beliefs. Nelson Mandela said that contemporary South Africa needs more of the likes of Dani Theron to meet the challenges it faces.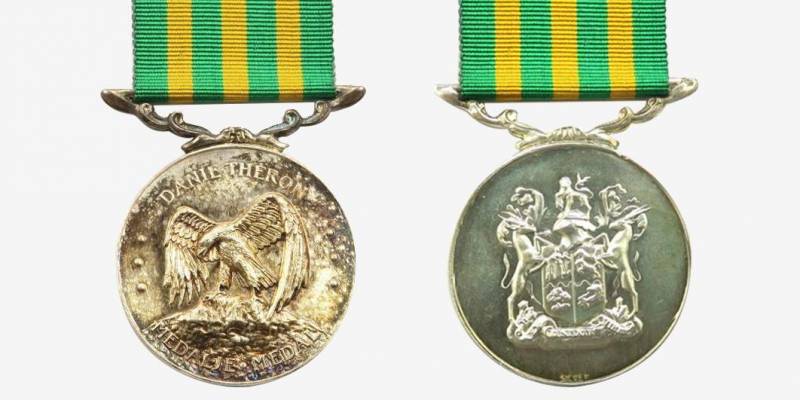 In 1970, the Dany Theron Medal was established in South Africa, which is awarded for diligent service in the ranks of the South African army (at least 10 years of service)
The school of scouts is also named after him.
Well, in 1983, the feature film "Dani Theron" was filmed in South Africa, telling about his life and death ...
PS
By the way, one of the younger brothers of the legendary intelligence officer, Charles, became the great-grandfather of ... the famous Oscar-winning actress Charlize Theron! Such are the zigzags of fate!