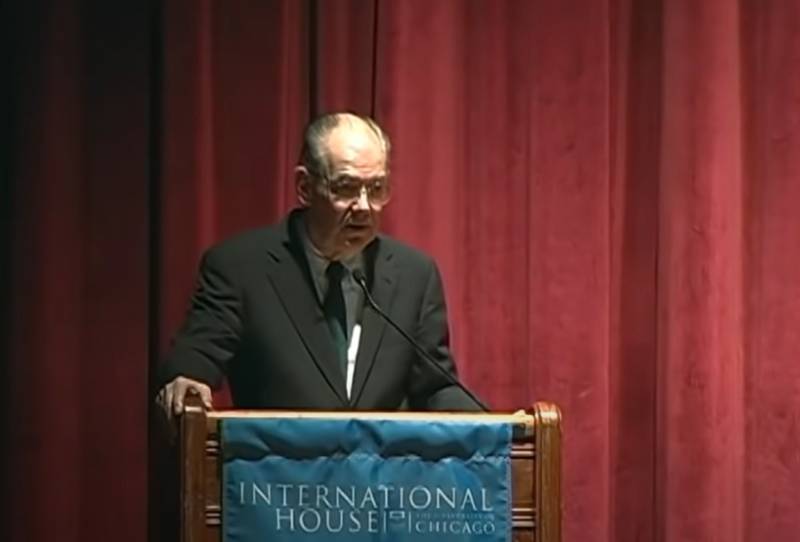 In the United States, experts from various institutions, public and near-government organizations are trying to find out the essence of what is happening in Ukraine. John Mearsheimer, a professor at the University of Chicago, and political scientist Ray McGovern, a former CIA officer, share their thoughts on this.
It is noteworthy that these American experts point to what Russia itself has long pointed out: the Ukrainian crisis was provoked by the West, and the United States itself has not yet fully assessed its possible consequences.
Experts say that Ukraine was already beginning to fall apart: first, Crimea left, then the actual loss of Donbass occurred.
From the speech:
Now it remains an open question whether there will be anything at all from the current Ukraine?
Political scientists emphasize that what is happening in Ukraine now this fall will lead to the fact that the Democratic Party will be defeated in the US elections. Her ratings are going down, as are those of President Biden.
Translation of part of the video with speeches by McGovern and Mearsheimer.
What is happening also complicates the situation for the United States in relations with China, which is a potential threat. And besides, we ourselves are pushing the Russians into the arms of the Chinese, which is devoid of any meaning. At the same time, we are turning Eastern Europe into a very unstable region and thus incurring additional costs associated with this.

This is a catastrophic situation. The question of who is to blame really matters.

The conventional wisdom in the United States and in the West in general is that Russia, namely Vladimir Putin, is to blame for the Ukrainian crisis. It is categorically impossible to agree with this opinion. Blame the West. It is we ourselves who bear the main responsibility for what is happening today, and this is largely the result of the decision taken on April 6, 2006, the decision to pledge to make Ukraine and Georgia part of NATO.

We wanted to accept Ukraine into NATO, no matter what happened. Then the Russians said that this was categorically unacceptable. They made it clear that they had come to terms with the first two stages of NATO's eastward expansion (in 1999 and 2004), but Georgia and Ukraine should not become part of NATO.

They drew a line and said that if we crossed it, it would be an existential threat to them. And in August 2008 there was a war involving Russia and Georgia, related to the issue of Georgia's membership in NATO.
Experts point out that even such an unambiguous signal from Russia, in fact, went unheeded. The United States continued the policy of NATO expansion, promising to accept Ukraine into this bloc. The situation escalated especially after the February events in Kyiv in 2014. Russia perceived the coup as a clear threat to its own security, but the West ignored these fears as well. Now the West too has to reap the fruits of irresponsibility.