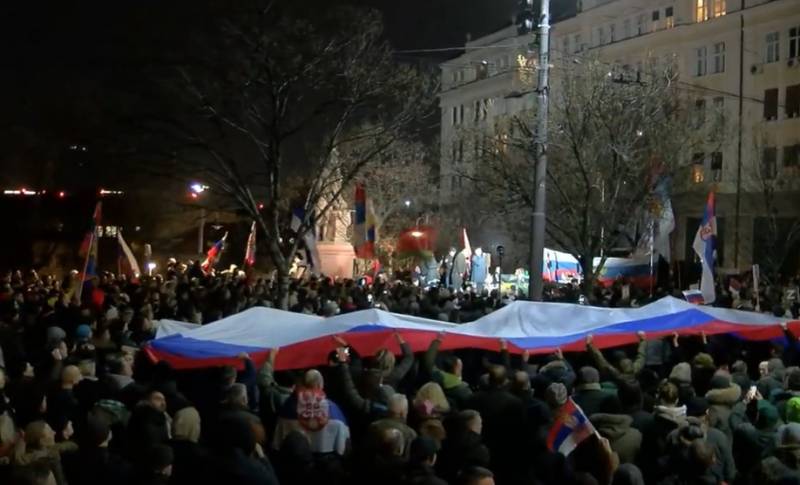 A rally in support of the Russian Federation was held in the Serbian capital. Several tens of thousands of people gathered in the center of Belgrade; According to the Belgrade police, at least 50 thousand citizens of the country took part in the action.
The participants expressed their solidarity with Russia's actions to provide assistance to the people of Donbass and to denazify Ukraine. In the hands of numerous participants were Russian flags, the flags of the republics of Donbass and Belarus, portraits of President Vladimir Putin, as well as signs with the letter Z, which has actually become an informal symbol of the Russian special operation in Ukraine.
A large column marched towards the diplomatic missions of Russia and Belarus, chanting slogans, including "Stop, NATO!", "USA, remember the bombing of Belgrade", "Long live Serbia and Russia!" and "Forward, Putin!"
Many protesters in a conversation with journalists say that they came to the rally to express solidarity with the people of Russia, with President Putin, who openly spoke out against the empire of lies. Recall that a few days ago, Vladimir Putin used this phrase to define the collective West.
One of the speakers at the rally:
Dear Russian brothers! We in Serbia will always be with Russia! Long live Russia! God is with us!
The rally participants noted that the West is already crossing all conceivable and inconceivable borders, trying to impose the will of other states and peoples, crossing the security lines. It is added that NATO today openly opposed Russia, accusing Moscow of hostilities, while not saying a word about how Belgrade was attacked by the troops of the military bloc.
One of the speakers at the meeting:
Forgotten NATO bombings of Belgrade? If you forgot, we will remind you of what you did here. And sooner or later we will ask for it
During the action, its participants turned on the Russian anthem.