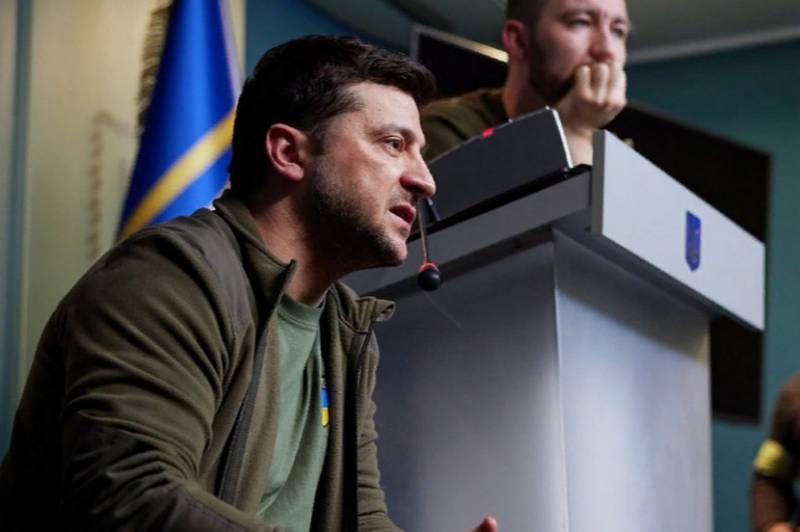 Hiding either in a bunker somewhere in Kyiv, or taken out by Western intelligence services to Poland, President of Ukraine Volodymyr Zelensky recorded a new video message in which he stated that Russia had thrown "almost the entire Russian army" against Ukraine.
According to Zelensky, Russia has already brought almost all of its troops into Ukraine, they will soon run out. From his speech, we can conclude that a little more and the "valiant" Armed Forces of Ukraine will drive the "aggressor back." According to military experts, including Ukrainian ones, Zelensky still does not understand what is happening, and therefore makes such statements. He is really convinced, or he is being convinced of this, that Russia can be crushed by sanctions, and then the withdrawal of troops can be achieved through negotiations. After that, Ukraine will certainly be accepted into the EU, and he will remain president.
Citizens of Ukraine, the enemy has brought the vast majority of his troops into the territory of our state, almost the entire Russian army has been thrown against our people
- he said.
In addition, Zelensky at the last press conference demanded that the West provide him with military aircraft to fight with Russia. At the same time, he accused Washington and Brussels of cowardice and unwillingness to close the sky over Ukraine. According to him, Russia will not stop at Ukraine, but will come "to the Berlin Wall."
If you do not have the strength, the courage to close the sky, then give me planes. Give me planes. If we are gone, God forbid, then there will be Latvia, Lithuania, Estonia. Next will be Georgia, Moldova, Poland. So they will go to the Berlin Wall
- he said.
Earlier, several NATO countries responded to Zelensky's repeated demands to close the skies in Ukraine to Russia, explaining that such an action would lead to a direct confrontation between NATO and Russia, which, in turn, could escalate into a nuclear conflict. So no one will close the sky of Ukraine.