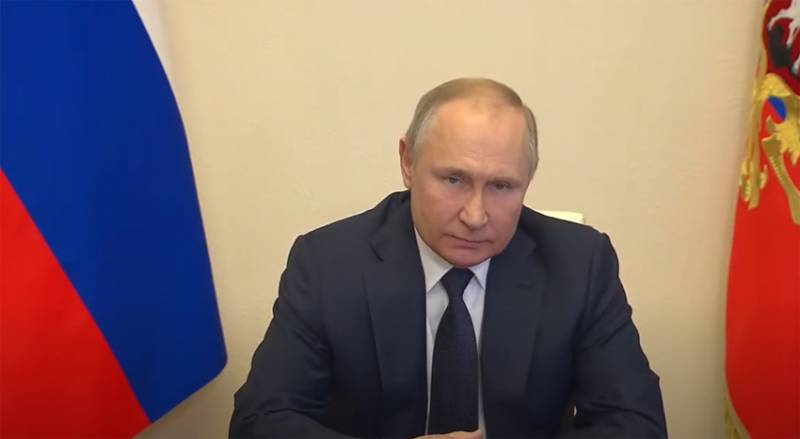 Vladimir Putin today presided over the next meeting of the Russian Security Council over the past few days. Opening the meeting, the Russian president spoke about the progress of the special military operation in Ukraine.
The head of state noted that the operation is developing in accordance with the plan. That work continues, which is connected with the fact that there was no threat against Russia from the neighboring state.
Vladimir Putin:
We will not allow ourselves to be threatened with anti-Russia, which for many years has been prepared for precisely this purpose. Moreover, to threaten nuclear
weapons
as it has been lately.
Vladimir Putin expressed his condolences to the families of Russian servicemen killed in Ukraine. The Supreme Commander emphasized that every dead soldier and officer is an irreparable loss for families, for all of Russia.
The President stressed that the family of each dead serviceman will receive material assistance from the state, including special surcharges. Payments will also be received by all those servicemen who were injured in the course of the special operation. Vladimir Putin added that the state would take care of the families of those soldiers who gave their lives in the name of Russia's security.
The head of state spoke about the courage and heroism of our military, shown during the operation. He cited the example of Senior Lieutenant Nurmagomed Gadzhimagomedov, who died in battle, a native of the Republic of Dagestan.
Vladimir Putin:
I have signed a decree conferring the title of Hero of Russia on Senior Lieutenant Gadzhimagomedov. Unfortunately, posthumously. Fought to the last. And he blew up with a grenade both the militants surrounding him, and himself. I am Russian. But when I see examples of such heroism, I, like this very young guy, am a Lak, I am a Dagestani. I am Chechen, Ingush, Russian, Jew, Mordvinian, Ossetian. All more than 300 nationalities of Russia are simply impossible to list. I think you understand me.
The President noted that he was proud to be part of the mighty and strong multinational people of Russia.
Vladimir Putin noted various units of Russian troops operating in Donetsk, Luhansk and other directions.
Before proceeding directly to the discussion of the situation, the President of Russia announced a minute of silence in memory of the dead.