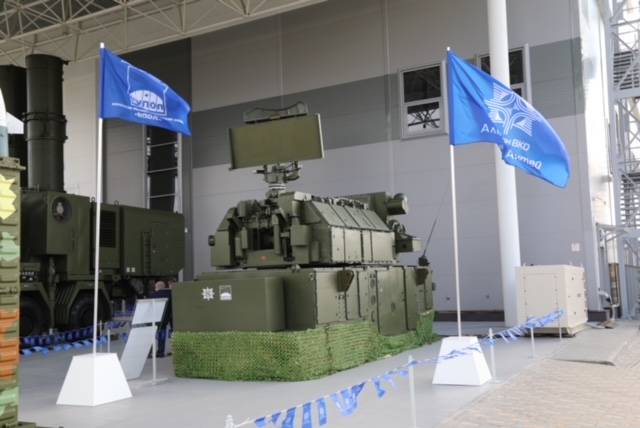 From March 6 to March 9, 2022, the World Defense Show-2022 exhibition will be held in the capital of Saudi Arabia, Riyadh, where a wide range of anti-aircraft missile systems of the Tor family, deservedly considered the best Russian short-range air defense systems, will be presented.
The World Defense Show-2022 exhibition is organized in Riyadh for the first time, but will be held every two years and will present the latest samples of air, land and sea innovative defense equipment, security technologies and satellite defense systems on its fields.
The most original of the family of anti-aircraft missile systems "Tor" is the autonomous combat module "Tor-M2KM". It differs from its basic version in the absence of a regular chassis.
Created at the Izhevsk Electromechanical Plant Kupol (part of the Almaz-Antey concern), the Tor-M2KM complex is designed to provide air defense, has high noise immunity from active and passive interference and is able to conduct combat work in all weather conditions, day and night.
The cover zone of the complex is from 10 m to 12 km in height and from 1 km to 15 km in range, with a heading parameter of ± 8 km. The cover area of ​​one combat vehicle is up to 480 km.
In its area of ​​responsibility, the Izhevsk complex is able to effectively deal with modern and advanced air attack weapons, including low-observable and low-flying ones.
Because of this, the Tor-M2KM combat module is the optimal means of air defense of strategic facilities - such as oil refineries, nuclear power plants, control centers, etc.
Izhevsk "Tor" has a high-potential radar station, which allows you to detect enemy missiles, planes, helicopters and UAVs at a distance of up to 32 km.
According to military experts, the airspace survey speed of the complex is 1 revolution/sec, and this is the best world indicator.
Up to 48 targets can be detected in one revolution of the antenna, up to 144 in three revolutions. According to the detected targets, their flight paths are tied in automatic mode. The ten most dangerous of them are displayed on the indicator screen.
It should be noted that the Tor-M2KM complex can be integrated with any chassis of a suitable carrying capacity, or used permanently.
Due to the rejection of the chassis, the autonomous combat module is noticeably cheaper, twice as light - it weighs only 15 tons - and is more convenient to transport.