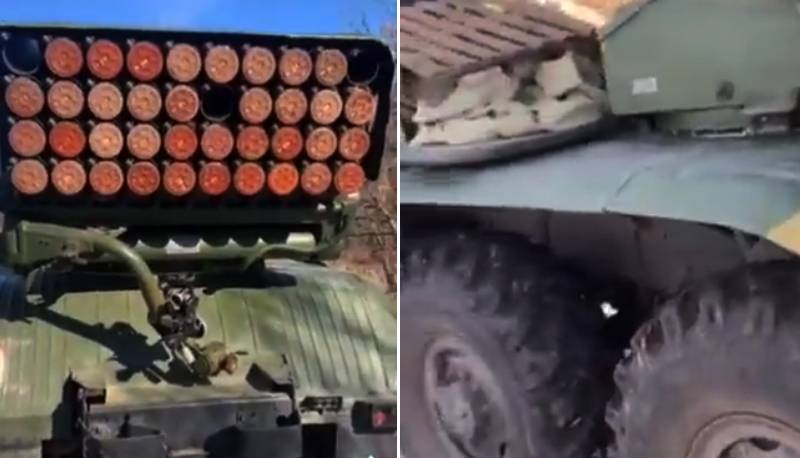 In a number of directions of the offensive of the Russian army during the special operation, clashes with Ukrainian units are taking place. In a number of cases, Ukrainian formations find themselves without proper command and control. Captured Ukrainian servicemen say that there is virtually no centralized command, and the most common orders are to place military equipment in forest plantations or in residential areas and "wait for the enemy to appear" to strike.
In the event of a rapid advance of Russian troops or the people's militia of the DPR, Ukrainian units often abandon equipment along with ammunition, leaving their positions.
Footage appeared on the network in which local residents demonstrate equipment abandoned by Ukrainian troops. In particular, we are talking about the Grad multiple launch rocket system, which turned out to be ownerless in the middle of a country road.
From the interrogation of a surrendered Ukrainian soldier:
We were told to board. There were no further orders. We didn't know what action to take.
But if the deployment of country roads and forest plantations is one thing, then the deployment of heavy equipment of the Armed Forces of Ukraine in residential areas is a frank attempt by Ukrainian security forces to hide behind civilians.
There are also Ukrainian officials who condone such criminal acts or make such decisions themselves. So, the authorities of Chernigov spread a call to mine the approaches and entrances to the city. In fact, this means only one thing: they are trying by all means to force the civilian population to stay within the regional center in order to use it as a human shield. A typical option for the Maidan authorities, when civilians try to cover up their own criminal acts.