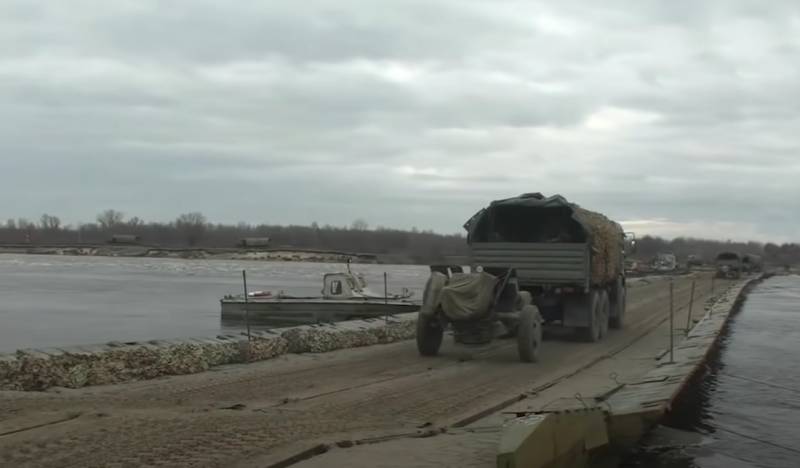 The Ukrainian authorities and military command are calling for the destruction of transport infrastructure when the troops of the republics of Donbass and Russia approach. These actions allegedly contribute to slowing down the advance of the allied forces, making it difficult, in particular, to overcome river barriers due to the destruction of bridges.
At the same time, the high level of saturation of military formations with engineering equipment, capable of quickly establishing crossings of various types, is completely ignored. Numerous videos show the transfer of troops using pontoon-bridge parks and heavy mechanized bridges.
For example, in one of the materials on which the Chrysanthemum-S SPTRK is depicted, a crossing was hastily built by engineers to replace the undermined bridge. In this case, only one section was used - more is not required due to the narrow channel, characteristic of the vast majority of rivers in Ukraine. To install it, one piece of TMM equipment on a motor vehicle or MTU on a caterpillar chassis, carrying one bridge link, is enough.
Chrizantema ATGMS pic.twitter.com/2AuvWufJLG

- ZOKA (@200_zoka) -
If it is necessary to overcome rivers with a wide channel, pontoon-bridge parks are used. The installation process is more time consuming, but Russian military engineers are able to complete it in a matter of hours.
Ever since Soviet times, increased attention has been paid to forcing water barriers, which was caused by the high density of rivers in Eastern Europe. Since then, a rich arsenal of means of guiding the crossing has remained in service with the Russian troops, and new systems have been adopted for supply. Therefore, the destruction of bridges by retreating forces or sabotage groups of the Kiev regime does not lead to serious difficulties in the advancement of the RF Armed Forces. In contrast to the negative consequences for the civilian population. However, his interests do not concern the authorities of the Independent after the Maidan coup.