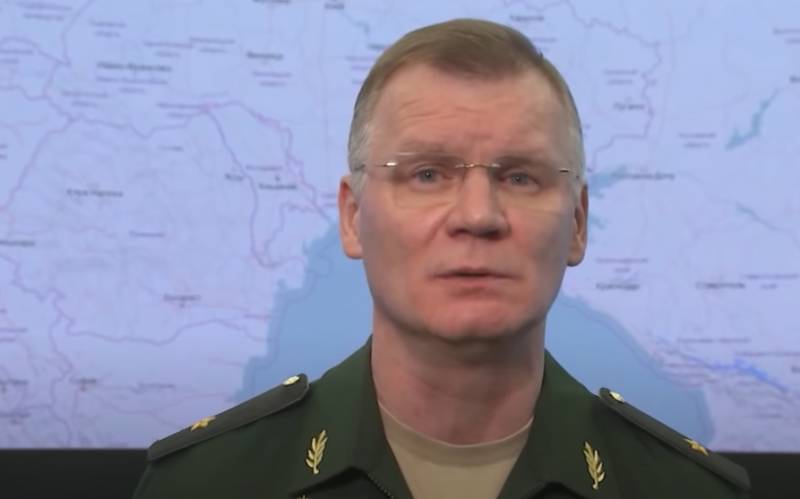 The Ministry of Defense of the Russian Federation held a briefing dedicated to the special operation being carried out on the territory of Ukraine for its demilitarization and denazification. The official representative of the defense department, Major General Igor Konashenkov, said that the advancement of the People's Militia of the DPR made it possible to take control of the settlements of Khvorostyanka, Sukhanovka, Artyom and others, to block Volnovakha. The day before, footage appeared that the DPR troops had already entered the outskirts of this city.
According to the Russian general, the DPR forces advanced 19 km.
It was noted that at the same time, Russian troops took control of the cities of Energodar and Berdyansk in the Zaporozhye region.
Energodar is a major energy center of Ukraine.
From the report of the Ministry of Defense of the Russian Federation:
Russian troops control the area around the ZNPP (Zaporozhye Nuclear Power Plant).
This nuclear power plant is located in the mentioned Energodar, it operates 6 power units.
The official representative of the Ministry of Defense stressed that the radiation background near the nuclear power plant complies with the norm.
According to General Konashenkov, the Russian Aerospace Forces have gained air supremacy over the entire territory of Ukraine. So, in a day, 8 Buk-M1 air defense systems were destroyed along with guidance stations, including the S-300 radar. Also, 4 aircraft were destroyed at airfields and one aircraft in the air.
In total, Russian troops have hit 1114 military infrastructure facilities since the start of the operation, including 31 command posts and communications centers, more than 300
tanks
, infantry fighting vehicles and armored personnel carriers, 57 MLRS.
The general noted that the Kiev leadership continues to hide behind civilians, the national battalions place equipment in residential areas, and gangs of marauders operate in Kyiv. Igor Konashenkov stressed that all the people of Kiev who remained in the city can leave it through organized humanitarian corridors in the direction of Vasilkov. Russian troops do not interfere with this.
Igor Konashenkov:
I emphasize that Russian troops do not strike at civilian targets.