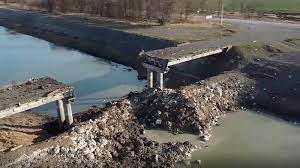 We want you to understand that Russian troops are coming to Ukraine not to occupy, not to take away your land, not to destroy Ukraine as a state. The Russians are coming to restore justice, to free you from ardent nationalists, from all the bastards who run your country, who grab billions and transfer them to offshore accounts that profit from the war, from supplies
weapons
to Ukraine and want to resume the creation of nuclear weapons.
The current president of Ukraine - Zelensky and his pack, the former president of Ukraine - Poroshenko and his pack, are mired in corruption. All the money they stole from you by raising the prices of utilities, food, and these are billions of dollars, was spent on buying weapons and maintaining national battalions, on waging a war with Donbass and paying for information warfare services to journalists and TV channels of Ukraine, which they lied that the Donbass was shelling itself, and you believed.
Poroshenko, Zelensky and other Ukrainian oligarchs no longer know where to put their savings. They have already begun distributing weapons to anyone to sow chaos and disorder in the country. In 2014, they financed the Maidan and Channel 5 in order to zombify you, they played on your patriotic feelings, on the slogans of the fight against corruption. And they themselves were the first notorious corrupt officials.
To come to power, Maidan leaders decided to rely on radical nationalists who sowed fear among Ukrainians. And you all endured and believed these liars. You were deceived on the Maidan, you were promised a better life, you rode on the Maidan and rejoiced for some reason, you were told that the Donbass and Russia are enemies. And you turned a blind eye to the Bandera marches and their atrocities.
But it was precisely this then, in 2014, that outraged us the most. You are now asking: "How are
Tanks
and war in the XNUMXst century, for what? And why didn't you resent what was happening on the Maidan in the XNUMXst century, when tires were burning and all of Kyiv was covered in black smoke. Why were they not outraged by the cruelty of the national battalions and what they were doing in the Donbass?
You have been told for 8 years about the war with Russia, you have been told for 8 years about Russia's aggression, you have been told for 8 years that the Donbass are terrorists, you have been told for 8 years that Crimea was occupied at gunpoint. And now, on February 24, 2022, you saw Russian troops.
You are deeply mistaken. In March 2014, we ourselves, almost the entire population of Crimea and Sevastopol, went and voted for Crimea without Poroshenko, without Turchinov, without Yatsenyuk, without Tymoshenko, without Tyagnibok, without Yarosh, etc. Nobody occupied us.
Our military immediately went over to the side of the people. We have chosen a different path for ourselves, and this is the path of development, not degradation. Our leaders are Putin, Aksyonov and Konstantinov, people of word and deed, people who can be relied upon, people who can be trusted and trusted.
You allowed the radicals to blow up power lines in Crimea, and we were without electricity for six months, you allowed the radicals to cut off our water, and we lived without water for many years, you blocked our railway and air communications, and we were left without food and goods supplies.
You did everything you could and thought that the worse it was for Crimea, the better for you. No, you've made things worse for yourself. And it was our leaders who did everything possible to start building and flourishing Crimea. Roads, the Crimean bridge have been built, peace and order have been ensured on the peninsula. And you listen to the West and America, who want to destroy Russia, and began to accept weapons from them. This has already crossed all the limits of our patience.
We hope that it will finally reach you - who is who. Russian troops entered Ukraine in order for peace, order and prudence to come to you.