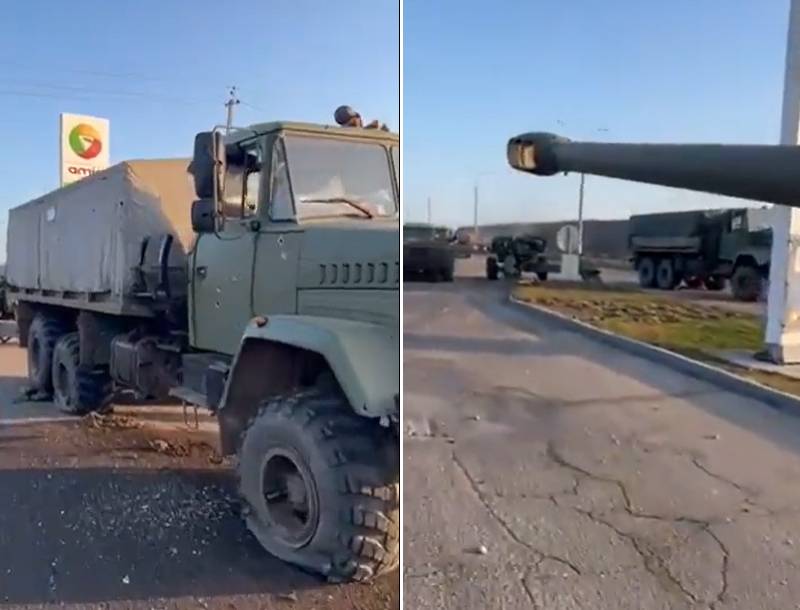 Abandoned Ukrainian military equipment in Kherson
The publications of the Ukrainian mass media during the days of the Russian special operation to demilitarize Ukraine attract special attention. The main message of the Ukrainian press, not to mention the Ukrainian segment of social networks and instant messengers, which received a fair amount of foreign financial support, is that "the Ukrainian army inflicts one defeat after another on the enemy." The same photos are published with several wrecked armored vehicles, army vehicles, reports are presented about "countless" saboteurs who allegedly managed to capture or neutralize.
Then it often turns out that the detained "saboteur" is provided by an employee of the SBU or an ordinary citizen who, not knowing about the curfew introduced, ended up on the street in the evening. But for Maidan propaganda, this is no longer important.
Of course, the Ukrainian side will not write about its abandoned equipment in a hurry. And if something does get into the media, then with "polishing" in the form of glorification and sacralization, with protruding ears of an outright fake. One of the examples is the "posthumous award" of the Ukrainian soldiers who surrendered from the Zmeiny Island. Desacralization brought the Maidan leadership into a state of impotent rage - after all, such a myth was thwarted by the Russian Navy ...
In this regard, the Ukrainian media in the comments recalled how information was provided in 2014 and 2015, when the events near Ilovaisk and Debaltseve took place. Caught in the ring ("cauldron"), the Ukrainian military, without supplies, counted the hours until the fateful denouement for themselves, and at that moment in Kyiv they cheerfully trumpeted about "bridgeheads" and "victories won." And when the Ukrainian troops and national battalions, who came under attack from different directions, barely made their way through the organized humanitarian corridors, throwing
weapon
, personal belongings - just to save a life - the Ukrainian command, together with the media, constantly reported: "The enemy suffered heavy losses. Our troops are regrouping, retreating behind pre-prepared positions for a counteroffensive.
When the truth was revealed, and when real, not fake, data began to appear about what happened to the Ukrainian troops near Debaltseve and Ilovaisk, they traditionally began to look for the guilty. A new "national leader" was also found, who during the election campaign said that all those responsible would be punished, and the war in Donbas would be stopped.
For the Ukrainian media and Maidan elites, this is symptomatic, especially against the backdrop of today's events.