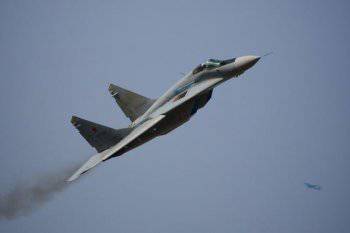 Moldova once again put up for sale six MiG-29 fighters remaining at the disposal of the national army after the collapse of the USSR, at the previous total starting price of 8,5 million dollars. According to the Ministry of Defense of Moldova, the auction for the sale of aircraft will be held 7 August 2012г. Marculesti International Airport. In addition, two An-72 aircraft are on sale. Both aircraft, as well as MiGs, were produced in 1988, but one of the An-72 aircraft is located at Chisinau airport, the other at Kiev airport. They are offered for sale at a starting price of 950 thousand dollars and 650 thousand dollars, respectively.
The participation fee in the auction for the sale of MiG-29 aircraft is 3 thousand dollars, and An-72 aircraft - 300 dollars. In addition, applicants must pay a deposit of 10% of the initial value of the lot.
MiG-29 fighters were repeatedly put up for sale by Moldovan authorities, but there were no buyers for them. As the Minister of Defense of Moldova, Vitaly Marinutsa, noted, if these fighters cannot be sold, they should be disassembled for parts and scrapped. He recalled that MiG-29 airplanes offered for sale are in non-flying condition and need repair, which is estimated at about 30 million. According to the head of the Moldovan Defense Ministry, the planes needed to be sold 10 years ago when they were in relatively good technical condition. condition.
There are currently five helicopters in the national army of Moldova, four of which are located in Afghanistan, where they participate in peacekeeping missions under the auspices of the United Nations. In addition, the defense department of Moldova owns four more military transport aircraft (two of them have already failed). In 2004 former military base
aviation
Black Sea
fleet
The USSR in Marculesti, located near the city of Balti in the north of Moldova, received the status of a civilian airport, and in 2008 Moldovan authorities decided to create a free economic zone on the basis of the former military airfield. After the collapse of the USSR, the Moldovan government sold most of its military equipment, including MiG-29 fighters. According to an international report, in 1992 the first of them was sent to Romania in payment of the debt for military and other assistance provided by this country to Moldova during the Transnistrian conflict. Two years later, four more fighters were sold to Yemen. The largest batch (21 MiG-29 fighters) was sold in the United States in 1997. for $ 40 million. Currently, only six such aircraft remain in the Air Force of Moldova.