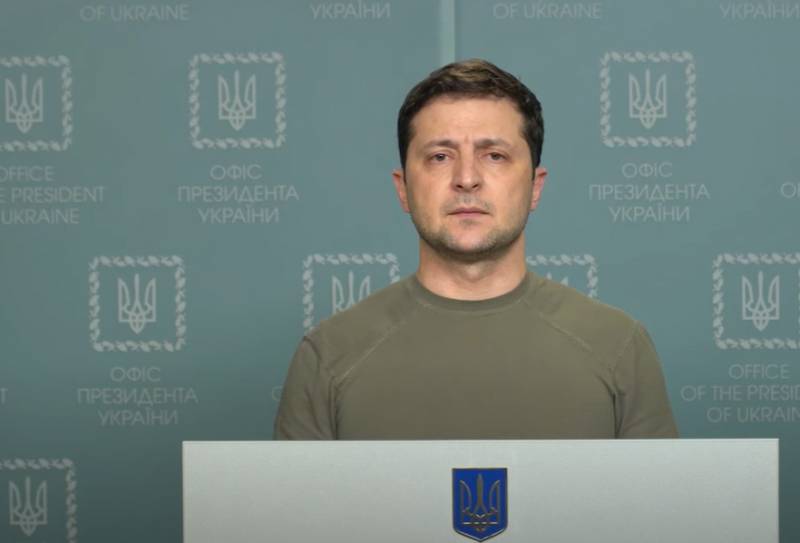 The President of Ukraine, who did not get in touch with European leaders for more than 1,5 hours, made an appeal. And it remains unclear when it was written. An article appeared in the Ukrainian edition of Strana, which says that Volodymyr Zelensky moved from his official residence to a basement or bunker, which is located in a "secret place".
Zelensky actually addressed the appeal, including to Vladimir Putin. In the words of the Ukrainian president, who can't help but put on airs, "Russia's invasion is a war against Europe." Thus, the President of Ukraine decided to attribute the country to Europe, although a few hours ago he accused the same Europeans that they were not helping him "to resist Russia."
According to Zelensky, Ukraine "today sees what all of Europe saw during World War II." The President of Ukraine called on foreigners to come to Ukraine "and help in resisting aggression."
Addressing Vladimir Putin, the Ukrainian president urged the Russian president to "sit down at the negotiating table to prevent further loss of life." This is despite the fact that Zelensky has already been reminded dozens of times that he repeatedly made promises to prevent the death of people, including at the summit of the Normandy Four, but he never fulfilled his promises. He also ignored the Minsk agreements, which he himself promised to fulfill.
Simultaneously with the call to the President of the Russian Federation to sit down at the negotiating table, Zelensky appealed to the West to impose new sanctions against Russia. Such "presidential logic"...
A few minutes ago, Zelensky tweeted that he could not take a call from Mario Draghi due to the difficult situation in the country, on the outskirts of Kiev.
Based on the rapidly developing events and clashes that have begun on the outskirts of Kiev, as well as in connection with reports of the dispatch of special units of security forces from the Chechen Republic to Ukraine, one can say that Zelensky's life is in danger. However, it is in danger not at all because he may end up in the hands of the Russian military, but because Ukrainian nationalists or agents of Western intelligence services can crack down on the president of Ukraine in order to pass it off as Russian actions.