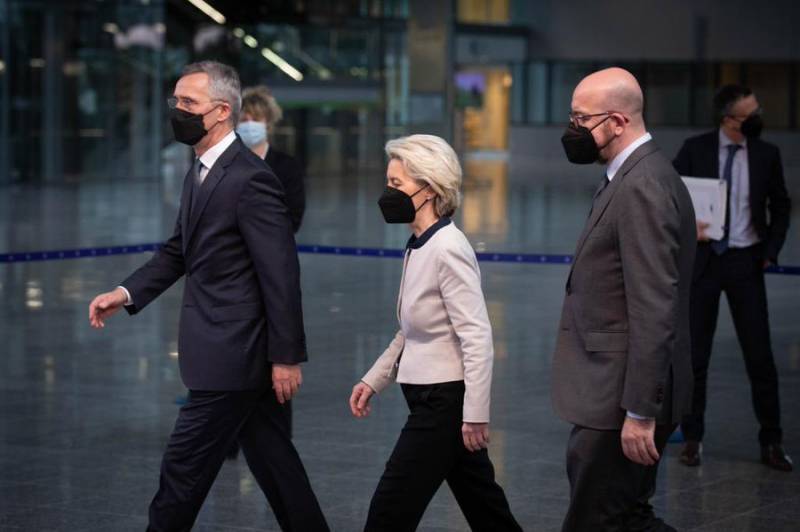 NATO does not have any plans to protect Ukraine from Russia, the alliance does not intend to deploy troops in connection with the events taking place on its territory. This was stated by NATO Secretary General Jens Stoltenberg.
An emergency NATO meeting was held in Brussels in connection with the military operation in Ukraine. At a press conference, Stoltenberg answered a number of questions from journalists. The only thing they were interested in was how NATO would react to the "Russian invasion" and what kind of assistance it would provide to Ukraine. As follows from the statements of the Secretary General - no way, the alliance does not plan anything.
NATO has no troops in Ukraine. And we have no plans to deploy forces in Ukraine
- declared Stoltenberg.
Earlier, Zelensky appealed to the leadership of NATO with a request to provide military assistance to Ukraine against the background of the "Russian invasion". In Kiev, they did not hope to receive help on the ground, but they really wanted to get it in the air. The Ukrainian Ministry of Defense really wanted NATO to close the sky over Ukraine, thereby "landing" the Russian
Aviation
. In this case, according to Kiev, the Armed Forces of Ukraine would be able to hold back the ground offensive, and reserves and territorial defense would be pulled up there.
However, NATO does not want to confront Russia by claiming defensive tactics. However, Brussels is putting in place a NATO collective defense plan that will allow the alliance to deploy additional forces and assets.