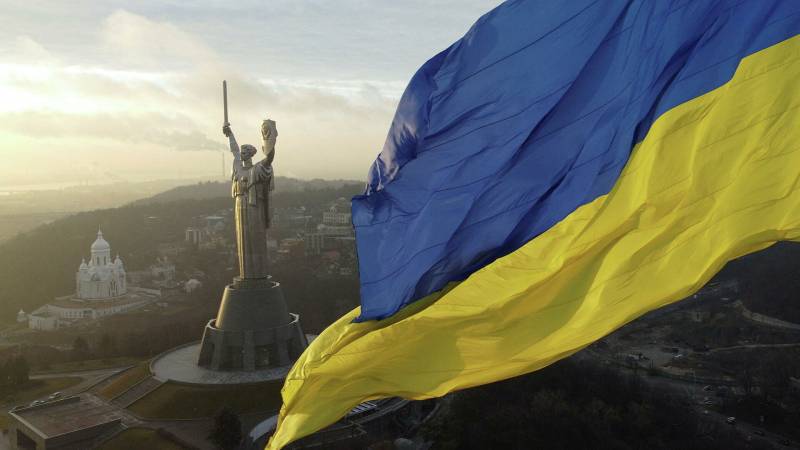 It is very peculiar to write about peace and peaceful prospects to the roar of Su-34s flying over the house from the Baltimore airfield, which is one and a half kilometers away. But we will talk about what will happen tomorrow, because "today" for Ukraine is actually over.
It is very pleasant to realize that the alignment on the air defense of Ukraine, which we made just recently, was completely justified. And all that is left to hope for in the Armed Forces of Ukraine is the Stingers, which we honestly admit,
weapon
close combat and in modern realities will not be as useful as we would like.
What we have in fact: the half-dead air defense system of Ukraine could not oppose anything to Russian aircraft and missiles. Now the air over Ukraine is at the complete disposal of the Russian Aerospace Forces, and one can seriously propose to stop even the appearance of resistance, because the tasks set will still be completed, it will just be more painful for the Armed Forces of Ukraine.
All these stories about the beautiful and mobile infantry of the Armed Forces of Ukraine, which will fight without
tanks
and BMP very bravely and effectively, were funny until February 24th. Today they look tragic, because even the Stingers (which still need to be able to use), if they reach the troops, will not be able to protect this infantry.
I would not want stupid losses and unnecessary deaths due to stupidity. But in general, the Ukrainian military, ships, according to the Ministry of Defense, do not ask for trouble and do not try to play Rambo.
This, in principle, was to be expected.
And now, when all our analytical calculations, which said that the Armed Forces of Ukraine are not capable of anything, are being confirmed, it is worth doing forecasts for the future.
After all, no matter what, we want Ukraine to have a future, don't we?
1. Despite all the promises and statements of Zelensky, the Armed Forces of Ukraine will not be able to provide absolutely no sane resistance. Separately taken units can still portray something heroic, but in general the APU will run as they did in other situations.
2. President Poroshenko entered
history
Ukraine, as having lost Crimea, President Zelensky will go down in history as having lost Donbass. And not only Donbass, perhaps.
Yes, Zelensky's night performance was very good, but to recall that "together we fought a common enemy" from the lips of the president of a country where monuments to those who fought are being demolished – sorry, looks shameful and cowardly.
3. The West will not help Ukraine. It is obvious. Sanctions, super sanctions, mega sanctions. Ukraine is not a NATO country, so no one will stand up for it. Yes, and there is no infrastructure in Ukraine that would allow the effective use of NATO forces.
And here everything looks rather sad for the old Ukraine.
But there are also some very positive things.
If the Russian army begins to act according to the Georgian scenario (naturally, having improved it), then there will be nothing terrible. Yes, some of the military facilities have already been destroyed, something will be ground in the process.
By the way, in the case of Georgia, it sounded like "peace enforcement", now the process can be called "humanity enforcement".
And no shelling of cities with civilians. What the residents of Donetsk, Gorlovka, Yasinovataya and other settlements of the LDNR experienced, the residents of Ukraine will obviously not have to worry about.
The Russian army has already shown that it can work accurately, so there is no need to worry. The main source of concern is the Ukrainians themselves. What they bred on the Internet cannot be called anything other than mega-panic. He himself was a participant in a very intensive information exchange between Zaporozhye, Ternopil, Slavyansk, Kiev and Kharkov.
In Slavyansk they talked about the landing on Odessa, in Kiev they talked about the captured Mariupol and the landing in Kharkov, and so on. And there is no need for enemies, the Ukrainians themselves did a good job of organizing panic in the country.
So what's next.
After the Armed Forces of Ukraine are seated to sit and think about the situation, they will take up the terbats. Everything is simple there: you went to the battalion - you are already guilty. The only question is how much.
The government and the Rada will not have to be especially cleaned up, so those who are not in order with their nerves and the past will wind up on their own earlier. It will just be necessary to replace the vacant seats with more sane people with whom you can conduct a dialogue.
By the way, such a person as Mykola Azarov may well be useful to Ukraine. Yes, age, but an old horse is unlikely to spoil such a furrow as Ukraine. And the former twice Prime Minister of Ukraine is the person who can be heard and listened to in Ukraine.
But if Ukraine does not like the age-old Azarov, well, there is a younger candidate. Well-known to all Anatoly Shariy, who was in opposition to both Poroshenko and Zelensky. Why not use it?
In principle, in any country (with rare exceptions), where the population is more than one million people, you can find a certain number of sane and intelligent people with whom you can conduct a dialogue. And Ukraine is absolutely no exception.
But the frankly fascist elite of Ukraine had to be changed, and it should have been changed a long time ago.
Next we have the gentlemen of the Nazis. They also need to be taken seriously. Indeed, those who arranged everything there in May 2014 should answer for Odessa. And for all other things too. Here, of course, the SBU should work, they already know all this brethren, but there can also be many questions for the SBU.
And without these "Yes, I followed the order ...". Eichmann also said so, but it turned out how it turned out ...
Naturally, the issue of shelling the DNR and LNR will be removed. As well as the issue of the status of the republics will be removed. By the way, in the conditions of the new Ukraine, it will be possible to easily fulfill all the Minsk agreements. I don't see any barriers to this. Amnesties, Russian language, special status…
And, by the way, an amnesty or simply the destruction of the "non grata" lists from among those who supported the LDNR from the "Peacemaker" base.
In principle - that's all the problems. Then only the positives begin.
The main oil and gas problem of Ukraine will be solved. Due to the resumption of good-neighbourly relations between the two countries (if resumed), oil and gas will again be at the disposal of Ukraine and its inhabitants.
Ukrainian workers of Nikolaev will receive orders for the construction of ships. We need warships, especially if in Ukraine they have not forgotten how to build them and have not plundered factories.
The Nikolaev association "Zorya-Mashproekt" will be able to build engines for these ships again.
Zaporozhye (and not only Zaporozhye) engine builders from Motor Sich will receive stable orders for engines.
And most importantly, after cleaning up everything that the Nazis had done in the country, it is possible and necessary to open the borders. So that people can freely conduct business and visit relatives.
If the price for this is a certain number of spaced military facilities on the territory of Ukraine - why not pay?
Moreover, after all these measures to restore order, peace will finally reign in the Donbass. And it will be possible to calmly and jointly (naturally, these are not Russian barrels hollowed out in Donetsk all this time) to restore the Donbass.
Together, this means by the forces of Ukraine, but under the supervision of Russia. Of course, assistance will be provided, but not in such a way that we will restore at our own expense what we destroyed the Armed Forces of Ukraine.
There will be a lot of questions, especially to those who have successfully butchered all these years. But this does not mean at all that some kind of bloody terror will begin there, naturally, no.
It was just one big abscess, called the Nazi clique at the head of Ukraine. The abscess did not break through on its own, it had to be opened. But otherwise it was simply unrealistic to solve these problems, which have sprung up mainly at the expense of the Ukrainian side.
Solving a problem like this is also solving a problem. The prospect that exists in such a situation is not the worst prospect for Ukraine.
February 24, 2022 was an epochal day. We can definitely say goodbye to the old Ukraine. And it would be very nice to greet the new Ukraine from the bottom of our hearts. No Nazism, no fascism, no shelling of Donbass, no closed borders.