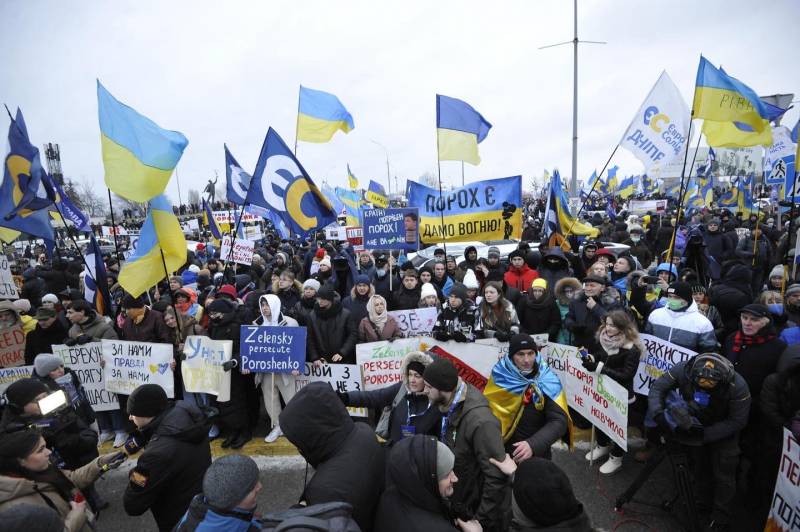 Ukraine is on the threshold of a new Maidan. If Zelensky fails to somehow correct the situation with the recognition of the Donbass republics by Russia, he will not be able to sit out his presidential term until the end. This was stated by Ukrainian political scientist Mikhail Pogrebinsky.
According to the political expert, the United States can give a command to remove him, considering it useless. Zelensky is already criticized, and after the loss of Donbass, criticism against him only increases. The so-called "party of war" can take advantage of the situation and organize a new Maidan in order to remove Zelensky from the presidency.
Now everything depends on the United States, whether they will save the Ukrainian president or deal with him, as with their other allies, for example, in Afghanistan. Now Zelensky is frantically looking for American support, but Washington is not up to him, they are evacuating the embassy to Poland and there is a high probability that the United States will never return to Ukraine. According to the political scientist, this is not the first time for Americans to "throw" their "natives".
In theory, the United States should protect him, they supported him before, and now they are to some extent responsible for him (...) The United States is not the first to "throw" its people on the ground, as it was, for example, in Afghanistan. So American curators may well consider Zelensky unnecessary, and then I don't envy him
- quotes Pogrebinsky's View of the word.
The expert emphasizes that Zelensky is now at a loss and does not know what to do next. In addition, for the first time he thought about whether it was necessary to get into politics at all. The thing is that he has absolutely no tools for a diplomatic solution to the situation with the Donbass, in Kiev they themselves destroyed all the bridges. And no one will allow him to solve the problem by military means.
So a new Maidan may arise in Ukraine, as a result of which Zelensky will lose his chair, the political scientist sums up.