When you first look at the underwater vehicle, its similarity with the famous sea fish - tuna is immediately striking. Tuna is not chosen by chance - the body structure of the fish provides it with maximum maneuverability when moving under water. The main purpose of the PWS "BIOSwimmer" is to combat smuggling and to ensure the security of the ports and ports of the United States.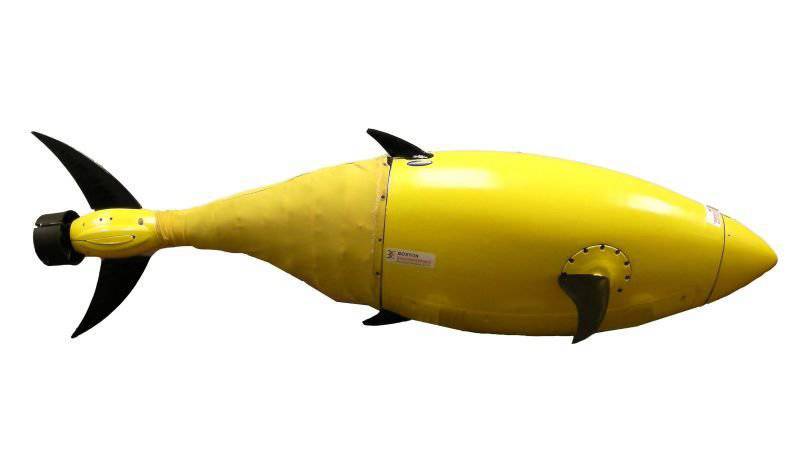 After the 2011 year of September, the Department of National Security took under enhanced control the movement of people and goods into the United States. Of particular concern to the DNB is the situation in the seaports of the country. So, in 2010, only one port in Los Angeles received more than 6.5 thousands of twenty-foot sea containers. To exercise complete control and security among such a volume of cargo is extremely difficult. It is expensive and difficult to inspect every container and every ship. The new "BIOSwimmer" unit is designed to facilitate security and non-penetration of smuggling.
Begin development of the 2009 year. Developed by Advanced Systems Group Boston Engineering Corporation and created the prototype GhostSwimmer. The project was funded by the National Security Department, at the project stage 100 000 dollars were allocated. It has the shape of fish and has increased underwater mobility. According to the designers, the choice of the shape of the tuna is obvious - "why look for the best solution to create an underwater drone, if nature has already done it for us."
Creating a new underwater robot makes it easy to access the ship's design, which is below the waterline, to examine the holds and ballast tanks even in high viscosity liquids such as oil. It will patrol the open waters of the harbor and water areas, check the underwater parts of the berths and docks with installed sensors and radar. Removable type BIOSwimmer sensors allow it to be used to perform various tactical tasks. It can be optimized for each task separately. The operator can transmit the general direction of the search through the data transfer channel using a laptop. On board the underwater drone systems are installed to communicate with the operator, control and work with data received from sensors and radars. To perform underwater maneuvers, like its prototype is tuna fish, it is provided with a flexible tail section, fins rudders of the lateral, dorsal and ventral execution.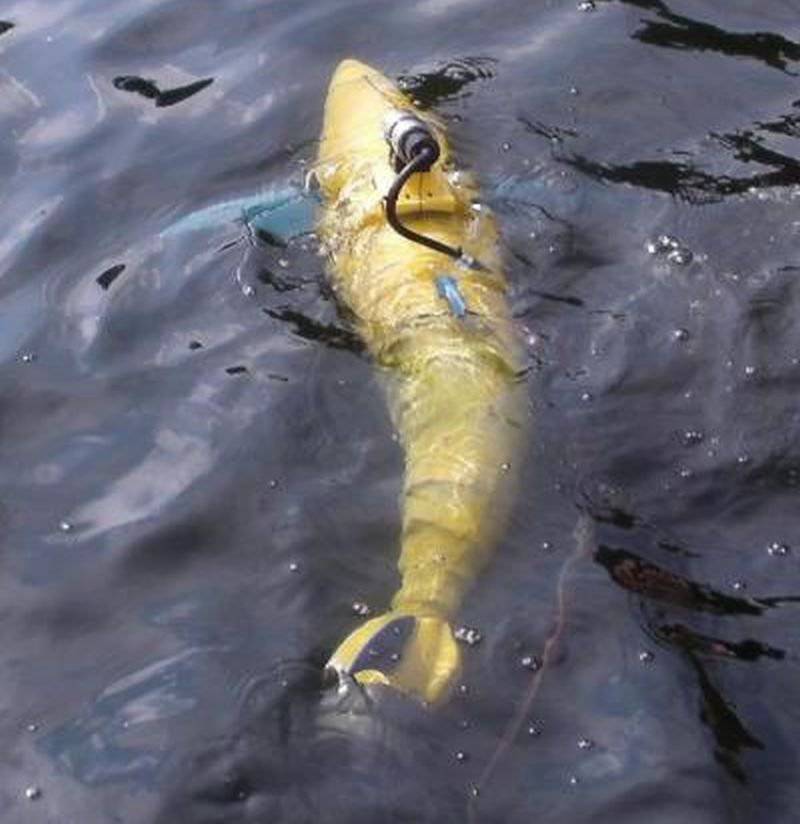 The first phase of the tuna robot test has already been successfully completed, and the second phase of the PW BIOSwimmer test has passed since last year. The head of the developer's company hopes that in addition to the underwater drone version, a commercial version for use in the oil industry will be widely used to ensure the safety of the harbor and maritime shipping.
Information sources:
http://gizmodo.com/bioswimmer/
http://www.tgdaily.com/security-features/66321-dhs-wants-robotic-tuna
http://mport.bigmir.net/war/1525620-Boevoj-tunec--novyj-kiborg-iz-SShA