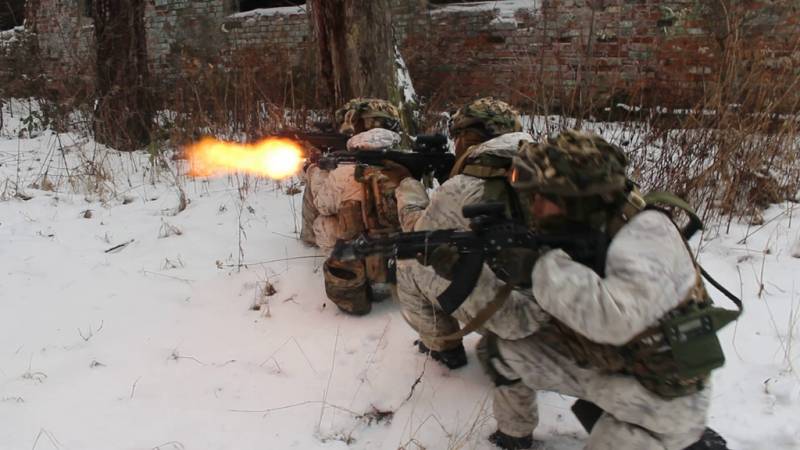 The breakthrough of the Ukrainian sabotage and reconnaissance group was carried out in the zone of responsibility of the NM of the Donetsk People's Republic. The saboteurs managed to blow up the ammunition depot. This was reported by the Ministry of State Security of the DPR.
According to published information, on Monday, February 21, 2022, the Ukrainian DRG made a breakthrough in the south of the republic, in the Novoazovsky district. According to the Ministry of State Security of the DPR, the group tried to reach the Russian border, but was met by fire from units of the NM DPR. At 10:05 Moscow time. time it was reported about a military clash between the military personnel of the NM DNR with the Ukrainian DRG, there is no new information yet.
However, the saboteurs managed to inflict damage on the republic, the DRG undermined the warehouse of rocket and artillery weapons of the NM DPR. What weapons were in the warehouse, where it was located, is not reported, there are no details.
Approximately at 08:10 in the Novoazovsky district of the DPR, a breakthrough was made by an enemy sabotage group (...)
- said in a statement.
Another attempt to plant an explosive device near the market near the railway. Donetsk railway station ended sadly for the Ukrainian saboteur. According to the press service of the NM DPR, when trying to install an explosive device, a self-explosion occurred, as a result of which the terrorist received injuries incompatible with life. A bag with a second explosive device was found next to the body.
The leadership of the republic calls on citizens to be vigilant, the enemy intends to carry out a series of terrorist attacks on important civilian and military facilities. The goal is to create panic and cause as much damage as possible.