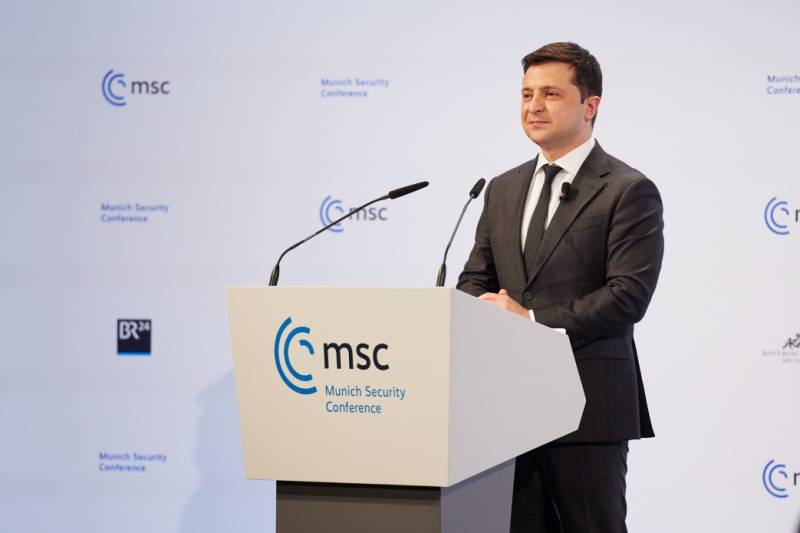 Foreign media publish assessments of the statements that the President of Ukraine made during the security conference in Munich. And the number of critical assessments turns out to be such that the Ukrainian authorities themselves clearly could not expect.
It all started with the fact that in Munich they didn't particularly want to see Vladimir Zelensky during the conference. Words were heard from the United States that "the Ukrainian army may find itself without a supreme commander-in-chief (during his visit to Germany) at the most difficult moment."
Recall that the "most difficult moment" in the West was called February 20 and 21, on which Russian troops allegedly planned to launch an invasion of Ukraine. The American television channel CBS, having received a relay baton for broadcasting fake
News
from other US media, announced that the RF Armed Forces had already received an order to start the offensive.
Zelensky's speech in Munich was not appreciated by the American media. So, on the CNN channel, a report was released, which says that "Ukrainian citizens are asking if their comedian can cope with dignity on the international platform." The word "president" was not used in this case. At the same time, the American TV channel cited the results of a survey conducted by the Razumkov Center. It turned out that the majority (55%) of Ukrainians believe that Zelensky will not be able to effectively command the army in the event of a major war.
The opinion of American experts is also given, who believe that for Zelensky a big war will be the end of the presidency. It is added that the current Ukrainian president has low authority in army circles, despite all Zelensky's attempts to improve the situation with visits to the Donbass and photos in camouflage and body armor.
In the German media, commenting on Zelensky's speech at the Munich Conference, they write that the President of Ukraine "behaved inappropriately." In particular, it is noted that "he extended one hand, asking for help, and the other threatened Europe," slapping European partners in the face.
German journalists write that "Zelensky's speech in Munich" made a negative impression on European leaders. It is noted that Zelensky's emphasis was on the word "should" - "you must help us." At the same time, it is added that the Ukrainian president behaved "emphatically impolite."
The European media added that Zelensky's speech in Munich "may be his last speech abroad before the war."
Recall that the "big war" in the West has been talked about for at least the third month in a row, inventing more and more new dates for the "invasion of the Russian army".