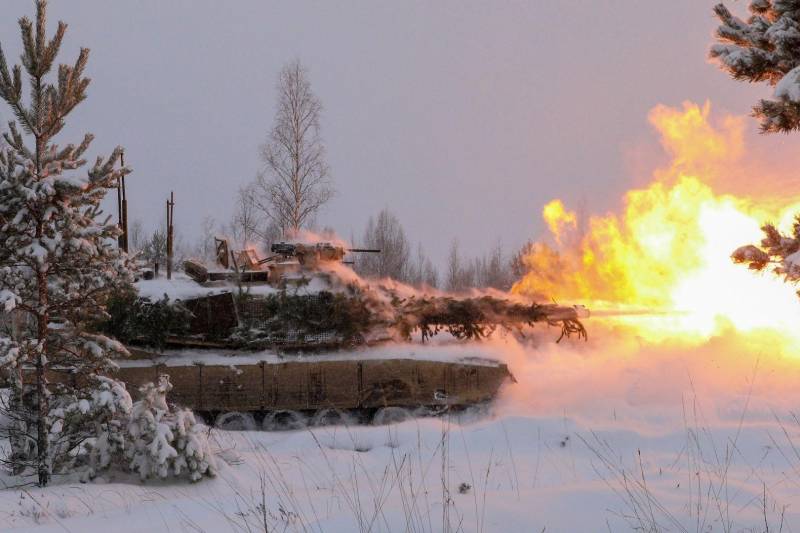 The US State Department issued a permit for the sale of weapons to Poland purchased by Warsaw
tanks
M1A2 Abrams SEPv3, including KEW-A1 rounds with a depleted uranium core.
On February 18, the United States approved a $6 billion deal for the acquisition by the Polish army of 250 American MBTs, taking into account the cost of ammunition, maintenance equipment, logistics and training costs. Among the types of projectiles purchased is the KEW-A1 with a shot that contains a core consisting of depleted uranium. It is believed that the KEW-A2000 developed in 1 is obsolete; at least, both the US Army (with a uranium core) and the Bundeswehr (with a tungsten core) are armed with other ammunition.
It is not known whether the KEW-A1 shells are capable of fighting MBTs protected by the new generation Relic-type reactive armor; whether they will be able to cope with the task of destroying a significant part of the tanks used in the combat formations of the RF Armed Forces. Therefore, this decision [to buy them] was met with criticism.
- indicated in the Polish edition of Defense24.
The negative reaction of Polish observers is reinforced by the ambiguous properties of KEW-A1. On the one hand, depleted uranium ammunition has higher combat characteristics than their tungsten-core counterparts. On the other hand, their use leads to radioactive contamination of the area. As indicated in the publication, this is confirmed by examples of the use of this type of projectiles, for example, the consequences of the 1991 Desert Storm operation in Iraq and the 1999 Allied Force operation in Yugoslavia.
Similar ammunition is in service with other countries - French OFL F2, British CHARM 3, Russian 3BM32. To date, the United States has created a new generation of uranium projectiles, in particular the M829A4 with a programmable detonation, designed to deal with tanks equipped with KAZ. At the same time, Germany relied on the development of shots with a tungsten core, resulting in a new generation of shells in the face of DM-53 and DM-63 / 63A1.
Against this background, Poland decided to purchase obsolete KEW-A1 ammunition, because only they can be delivered as soon as possible, and the first Abrams should appear as early as 2022.
- indicated in the publication.
As you can understand, the Polish author is neutral about the possibility of radioactive contamination of the area as a result of the use of KEW-A1 tanks. In his words, this is akin to placing artillery in populated areas by the enemy - you will either have to eliminate it with losses among civilians or reduce the risks to zero by not responding to enemy shelling.