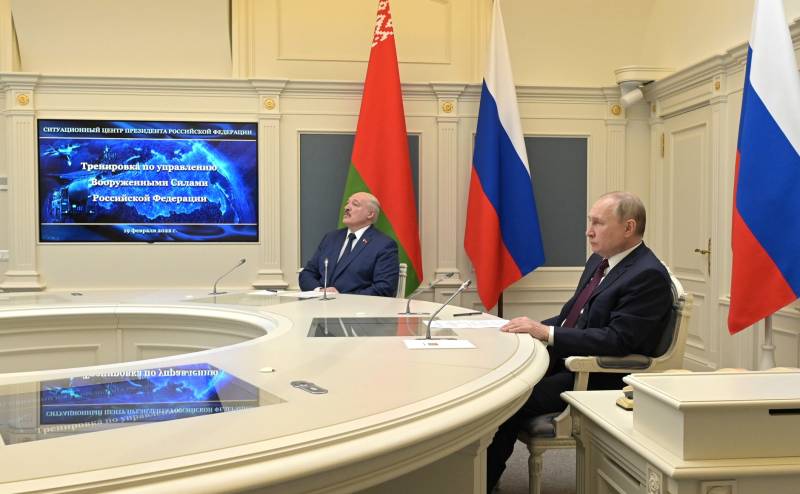 The test of the reaction forces of the Union State, which is taking place on the territory of Belarus, will continue, the corresponding decision was made by the Russian and Belarusian leaders. According to the Ministry of Defense of Belarus, a decision has been made not to withdraw Russian units for the time being.
On Saturday, Putin and Lukashenko discussed the increase in NATO military activity near the borders of the Union State, as well as the aggravation of the situation in the Donbass, after which they decided to continue testing the joint response forces. As the head of the Belarusian military department Viktor Khrenin explained, in the course of further verification, the stages of defense of the territory of the Union State will be more carefully worked out, no global changes in the direction of the exercises are planned.
In general, its focus will remain unchanged - it is designed to ensure an adequate response and de-escalation of military preparations of ill-wishers near our common borders.
- quotes the Ministry of Defense of Belarus Khrenin's words.
While no details are reported, it is not known whether the units of the Russian army located in Belarus will be castling, or the units of the Eastern Military District transferred there will continue to carry out tasks. At least there were no reports from the Russian Ministry of Defense.
The test of the reaction forces of the Union State started in early February and took place in two stages. At the first, a grouping of troops was created, at the second, the Allied Resolve-2022 exercises were held. In the West, the Russian-Belarusian exercises have already been called "probable preparations" for the invasion of Ukraine. Now we can expect another wave of statements from Western politicians.