With the help of the new project, the American employees of the research agency DARPA (USA) decided to sort out the Russian submarines on duty. It is reported that the Americans had the idea to equip icebergs with special sensors in order to create a cheap network capable of tracking the movements of submarines of foreign countries (including Russian ones). US experts from DARPA are confident that the iceberg system will help to map the routes of submarines of a potential enemy in the world's oceans, reports
Snews.ru
.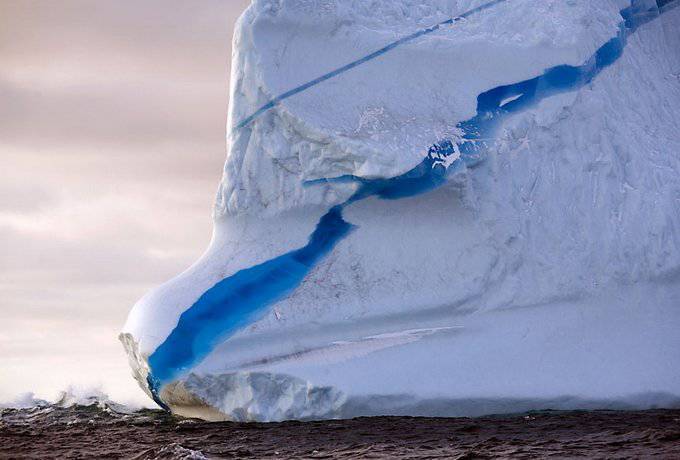 Today, the melting of the Arctic ice occurs with great activity, and this means that the Arctic Ocean may soon become a place of serious military and commercial activity. At the same time, constantly breaking off chunks of ice, its crash and other factors that contribute to melting can hide submarines that can carry ballistic missiles on board with great efficiency.
This is what makes the Pentagon today use the Arctic ice to monitor the situation in the polar region. On floating icebergs, Americans want to install magnetic and acoustic sensors, which will help, according to the DARPA, to detect foreign submarines. In addition, icebergs can travel about 6-10 km per day, which raises them to the status of low-speed patrol vehicles.
This program is called AAA Assured Arctic Awareness. It is quite likely that it is very capable of helping the US Navy in tracking the submarines of Russia and China, and it is these states in the US that they consider potential adversaries in terms of conducting activities in the Arctic. Today, we can assume that the AAA program will help the Americans to get ahead in terms of detecting ballistic missile submarines, and if so, this can lead to an imbalance of power parity. Today, no missile defense system can effectively fight against missiles fired from an enemy submarine, and if the Americans learn the locations of the boats, and hence the locations of launches, they will give them an extra head start.
However, one should not think that the AAA project is a novelty. Over his version of the Americans began to wrestle in the early nineties, when they wanted to completely eliminate the possibility of a rocket attack from the waters of the Arctic Ocean. However, that program dealt exclusively with spy buoys. Now, as you can see, the scope has become much more significant.