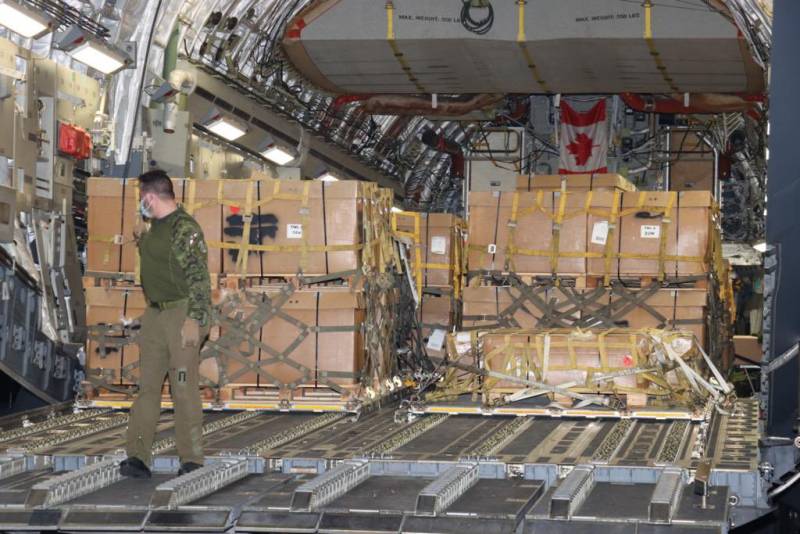 Canadian military assistance has arrived in Ukraine, the Canadian Ministry of Defense has supplied the Armed Forces of Ukraine with small arms
weapon
and non-lethal equipment. This was announced by the Minister of Defense of Ukraine Oleksiy Reznikov on his Twitter.
The plane with Canadian military assistance arrived in Ukraine on Saturday, February 19, but did not land in Kiev, where all American and British planes landed with cargo, but in Lvov. Apparently in Canada they are afraid that the Russian army will "invade" Ukraine and that Canadian weapons will go to Russians, not Ukrainians.
So it is, or otherwise, but a Canadian military transport plane that landed in Lviv delivered a cargo to Ukraine, which included sniper and assault rifles, machine guns, pistols, surveillance and night vision devices and other equipment, there is no exact data. The head of the Ukrainian military department also did not clarify the composition of the cargo, only expressed gratitude to the Canadian government for "supporting Ukraine."
(...) received military assistance in the form of sniper rifles, automatic rifles, machine guns with optical aiming aids, pistols, night vision and surveillance devices and military equipment
- said Reznikov.
The delivery of military aid from the Netherlands is expected in the near future. The government of this country decided to supply Kiev with 3 protective helmets, 2 body armor, 30 metal detectors and 2 marine robots to search for mines. In addition, counter-battery radars, 100 sniper rifles and 30 rounds of ammunition for them are expected to arrive.