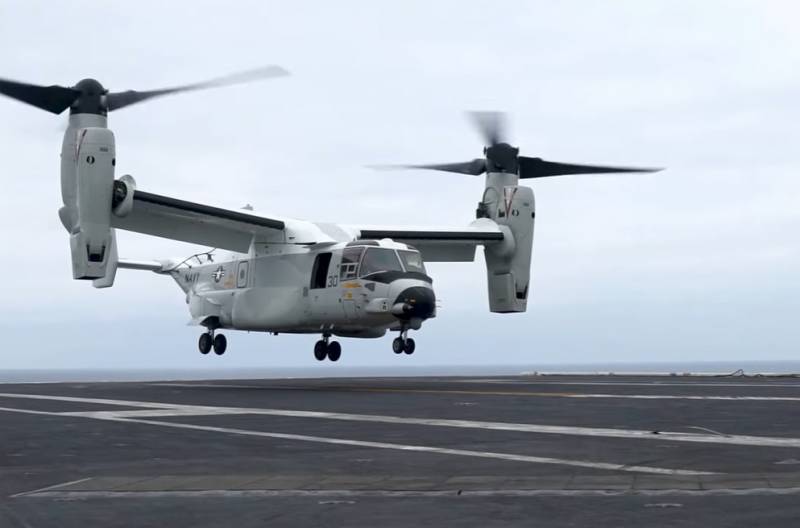 The US Navy confirmed the achievement of initial operational readiness with a new modification of the Osprey tiltrotor. This is a modification of the CMV-22B Osprey, which passed the final tests on February 17-18. The main task that the command sets in terms of operating the new version of convertiplanes is the task of operating as part of the aviation wing of aircraft carriers.
US Navy Rear Admiral Andrew Loizel:
The first deployment of a new modification of the CMV-22B Osprey tiltrotor in conjunction with the air wing of the aircraft carrier USS Carl Vinson took place. This is an operational success, which personally instills confidence in me in terms of talking about the great future of this technique.
The American rear admiral says that the new modification of the tiltrotor should provide more effective support for the crews of aircraft carriers, including the prompt delivery of goods.
Andrew Loizel:
These convertiplanes should form the basis of the transport wing of aircraft carriers of the future. During the tests, they confirmed their performance.
It is reported that the new modifications of the CMV-22B Osprey convertoplanes will replace the US Navy's C-2A Greyhound tactical carrier-based transport aircraft. American media reports say that the CMV-22B Osprey convertiplanes delivered payloads aboard the aircraft carrier Carl Vinson during test flights. These are provisions, mail, accessories. Also on board the convertiplane, groups of US Navy and Marine Corps personnel were delivered to the aircraft carrier.
Now, the CMV-22B Osprey tiltrotor aircraft have received IOC (Initial Operational Readiness) status, which allows them to be used in transport missions.
The new modification of the well-known American tiltrotor is characterized by increased payload and an increased range of use by about 120 km.