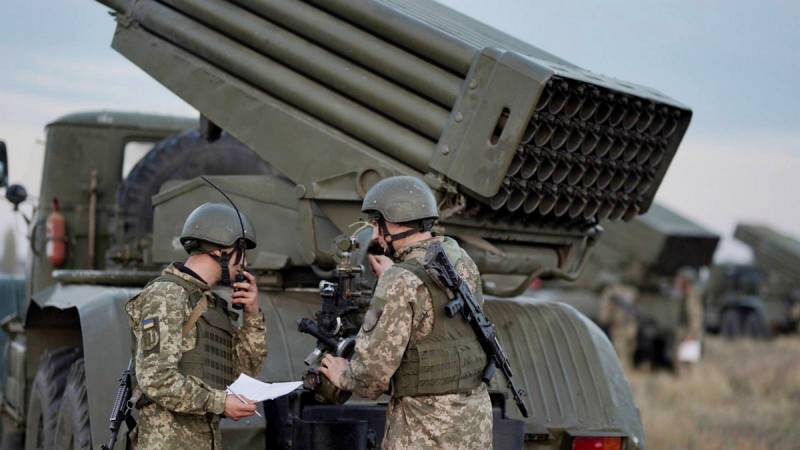 The command of the Armed Forces of Ukraine has already determined the direction of the main attack on the Donbass, Ukrainian intelligence has carried out reconnaissance in the direction of a likely offensive. This was stated by the official representative of the People's Militia of the LPR Ivan Filiponenko.
In the event that a final decision is made on the offensive and a command from Kiev, the Armed Forces of Ukraine will strike in the area of ​​the Svetlodarskaya Bulge, immediately trying to wedge in at the junction of the republics with further development of the offensive deep into the territory. Thus, the Ukrainian army not only cuts through the defense of the republics, but also disrupts communication between the DPR and LPR, including transport.
Information about the preparation of a strike in this direction came from an undercover source, and it is also confirmed by intelligence data reporting that a reconnaissance was carried out in the area of ​​the Svetlodar Bulge. According to intelligence, the forces of the 30th separate mechanized brigade, reinforced by two
tank
battalions. The breakthrough will be supported by the 95th Airborne Battalion with artillery support from the 26th Artillery Brigade.
The second echelon is planned to use the 17th separate tank brigade without two battalions and the 81st separate airmobile brigade, which is in the reserve of the commander of the JFO
- said in the message of NM LPR.
It is reported that the Armed Forces of Ukraine are ready for the offensive and are just waiting for the command of Kiev. On February 17, the command of the operational-tactical group (OTG) of the Armed Forces of Ukraine "North" checked the readiness of armored vehicles for the offensive, within which the armored vehicles, withdrawn from the line of contact, after the alarm, marched to the designated areas of the offensive. Whether it was returned to storage is not reported.