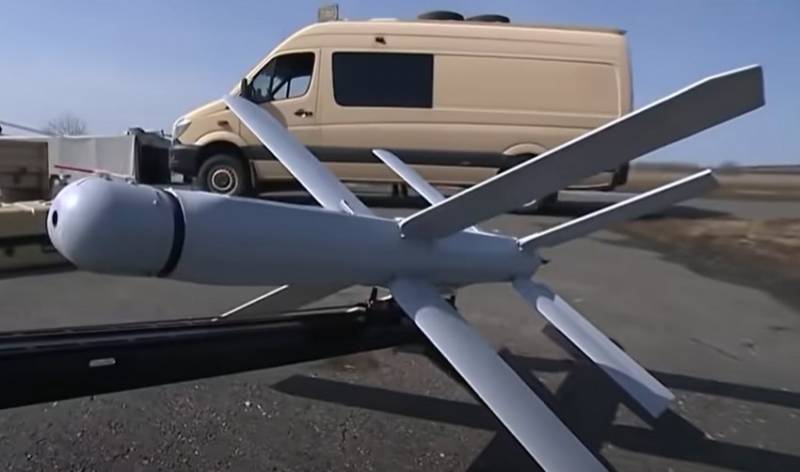 Basic version "Lancet-3"
A deeply modernized version of the Lancet loitering ammunition has been created in Russia, the kamikaze drone has already passed the necessary tests, including in Syria.
The new version of the "Lancet" differs from the base model with "updated aerodynamics" - the drone was equipped with one large X-shaped wing and an X-shaped plumage in the tail section, while the previous model had two symmetrical X-shaped wings. In addition, the modernized "Lancet-3" received a warhead of increased power, as well as an increased range and duration of flight. The characteristics of the drone are not disclosed, on the website of the developer company there is information only on the base model.
However, the military-diplomatic source, whose words are referred to
RIA News
, said that the military had already tested a new version of the Lancet-3 loitering ammunition in Syria. Whether the tests of the upgraded version of the loitering munition have been completed or are ongoing, the source did not explain.
As part of the tests, a new version of the Lancet-3 loitering ammunition was used several times by Russian military units against terrorist positions in Syria
- he said.
The basic version of the UAV "Lancet-3" has a takeoff weight of 12 kg, while the weight of the warhead is 3 kg, which is reflected in the name of the UAV. The drone develops a speed of 80 to 110 km / h and can hit targets within a radius of 40 km from the operator. For guidance, three systems are used: coordinate, with the help of optoelectronic means and combined. The drone is equipped with a television channel that transmits an image of the target and allows you to confirm its defeat. The fuse is pre-contact.