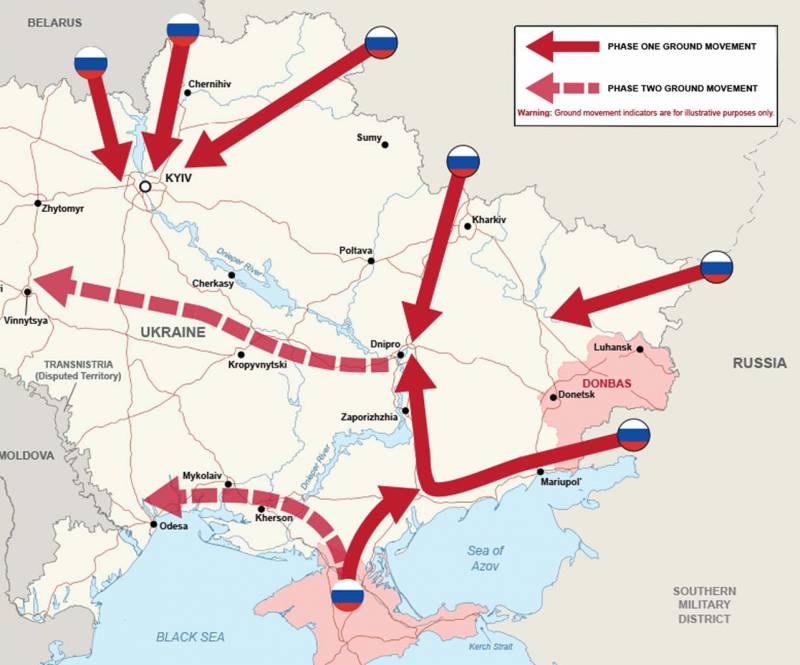 A post appeared on the official account of the British Ministry of Defense, in which a map of the alleged plan of the "Russian offensive against Ukraine" was published. At the same time, the reference once again goes to "intelligence data", which has repeatedly been embarrassed, announcing "possible invasion dates" one after another.
On the map, red solid and pink broken lines with arrows indicate "attack routes". So, three direct red arrows are directed at Kiev at once, and two of them are from the territory of Belarus. One - through Chernihiv, the other - through the Kiev region. Recall that the other day, Western media showed on a satellite image a pontoon crossing over the Pripyat River in the Republic of Belarus, stating that this was supposedly evidence of an "imminent invasion".
One red arrow is directed from the territory of Russia to the part of Donbass controlled by the Armed Forces of Ukraine, and also (from Crimea) towards Mariupol. Two arrows are drawn in the direction of Dnepropetrovsk (Dnepr), and one (the longest of the red lines on the map) is through the Sea of ​​\uXNUMXb\uXNUMXbAzov.
Also on the map there are a couple of broken lines (called the second phase of the offensive), one of which goes from the territory of the Crimean peninsula towards Odessa, and the other from the Dnieper towards Vinnitsa.
The British Ministry of Defense under the map makes a remark:
The Russian president can still prevent conflict and keep the peace.
Noteworthy is the addition of small red letters from the British War Office to the effect that this map is "presented for illustrative purposes only".
The post received a fair amount of criticism from users. In response, a map of NATO's "plan of a possible attack" on Russia and Belarus was presented with many red arrows. The author under the nickname Plebejer, playing on what the British Ministry of Defense issued, writes that NATO can still prevent conflict and keep the peace.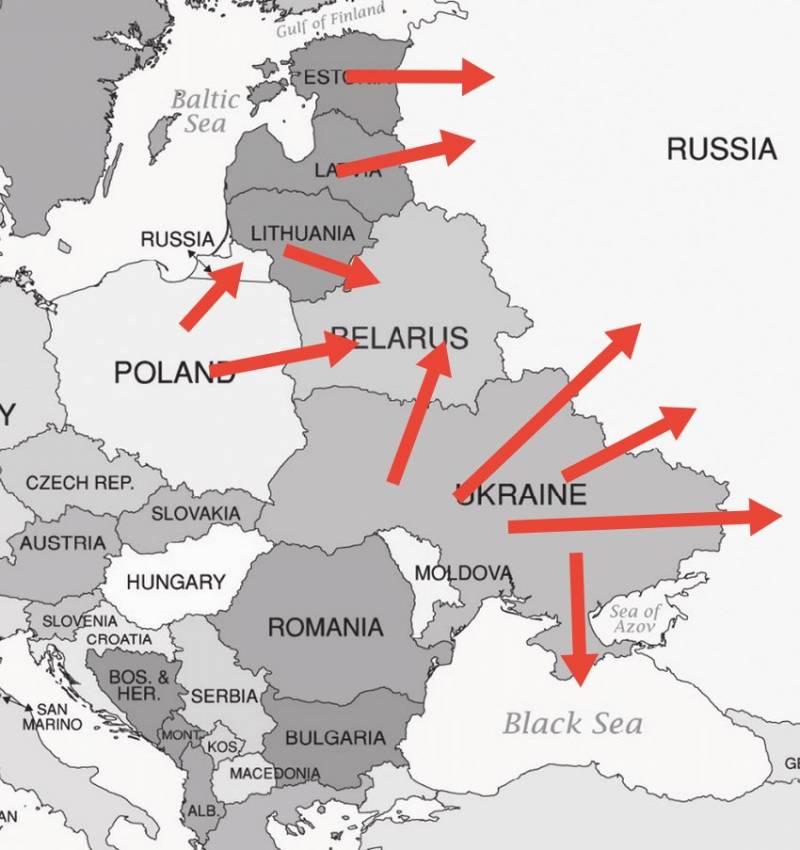 Also in the comments it is noted that "for illustrative purposes" the British Ministry could use the well-known example with the "Powell's test tube": "I wish Powell's test tube was finished."
One of the comments (Herve Boinay):
Russia is not going to invade, they will be on the border for the next few months/years, laughing at how the West is slowly fading away from self-inflated hysteria.