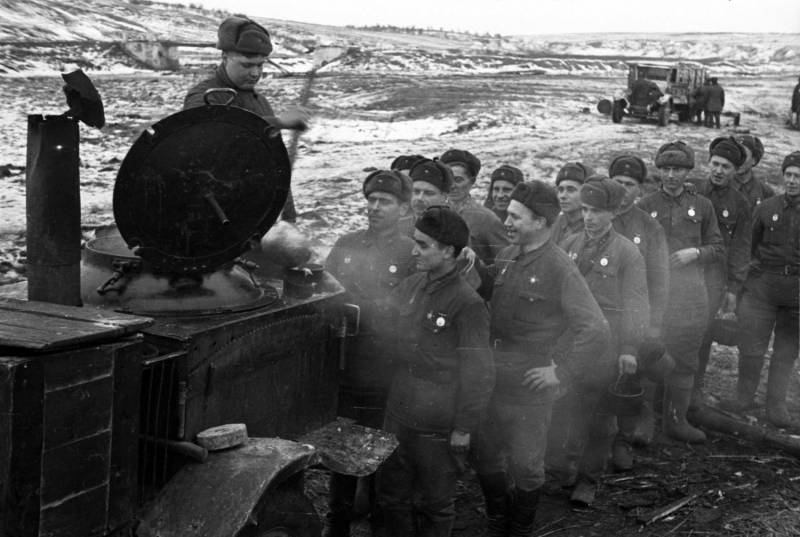 Today, February 18, the military personnel responsible for the food and clothing supply of our army celebrate their holiday.
As the saying goes: "As a soldier stomps, so he stomps."
It is worth noting that these words have a lot of meaning. After all, a "malnourished" and emaciated soldier, even with great motivation, willpower and dedication, will not be able to fully fulfill the assigned tasks.
At the same time, despite the fact that many call army food tasteless and unappetizing (especially those who happened to serve in the crisis of the 90s), the nutrition of a soldier is as balanced as possible. The food standards established in the army fully comply with the requirements of physiological standards.
Therefore, even in the aforementioned 90s, recruits who entered the service with a deficit of weight returned to the "citizen" in good physical shape.
However, feeding a soldier is only half the battle. He still needs to be dressed and shod.
Both of these tasks are being successfully solved today by the food and clothing service, which is part of the Logistics of the RF Armed Forces.
It is worth noting that, like most army services, it originates in the Petrine era. In 1700, by order of the last tsar of all Russia, the post of general-provider was established. Responsible for the distribution of provisions were in each regiment and were called food masters.
Since then, 322 years have already passed. The name of the posts and services has changed several times, but the essence of the work of these military personnel has remained the same - the uninterrupted supply of the army with provisions and things.
One of the main tests for the food and clothing service, as well as for the vast majority of army units, was the Great Patriotic War. Nevertheless, despite the extremely difficult situation, the rear services coped with the task assigned to them.
During the war years, more than 2 million tons of grain were collected and sent to the front on the territory of the USSR alone. Another 1,6 million tons were transferred to the civilian population. In addition, from 1941 to 1945, the Red Army received 73 million tunics, 38 million overcoats and 11 million pairs of boots.
Finally, it is worth adding that the work of the food and clothing service does not stop for a minute even in peacetime. The modern Russian army is fully provided with things and food. Thus, the principle "a well-fed soldier is the basis of the army", thanks to the efforts of service representatives, has become an inalienable rule for our troops.