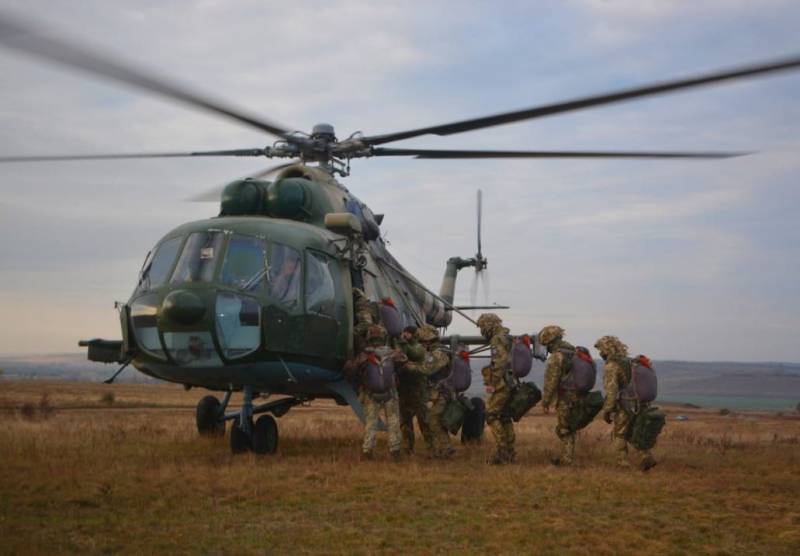 In recent days, perhaps the most discussed topic in the world media has become a hypothetical war between Russia and Ukraine. It pushed even the Winter Olympics in Beijing into the background. Many analysts are busy comparing the forces of the parties. Although practically no one doubts that Russia is stronger than Ukraine, the authors are still tempted to analyze the state of the Ukrainian army.
For example, the Ukrainian army
aviation
"on paper" includes four aviation brigades with Mi-8 transport helicopters and Mi-24 combat helicopters. But only about 30 helicopters of each type are capable of daily combat activities. This number is enough, at best, for half of the declared number of brigades, writes David Ax of Forbes magazine.
As an American observer notes, Ukrainian helicopter forces may not last long in combat. Thus, the 11th, 12th, 16th and 18th separate brigades of army aviation are registered with the Ministry of Defense of Ukraine. Of these, the 11th brigade is located in the south of Ukraine, the 12th and 16th brigades are in the west of the country, and only one 18th brigade is deployed east of the Dnieper.
At the same time, only the 11th and 16th brigades of army aviation are fully equipped with equipment. Each of them has an operating fleet of 10 Mi-24s and 15 Mi-8s. But there is more interesting data from the London-based International Institute for Strategic Studies: only 15 Mi-24s and 23 Mi-8s remain for the other two brigades. Of course, it's better than it was eight years ago. The Ukrainian military department removed old Soviet helicopters from the warehouse and tried to put them in order.
Ukrainian helicopters participated in joint exercises with US troops. Ukraine also provided helicopters to the UN peacekeeping forces in the Democratic Republic of the Congo. Air operations in the Congo made it possible to increase the level of combat training of helicopter crews.
However, if the Russian army, the American analyst writes, invades the territory of Ukraine, helicopters will immediately become a vulnerable target for hundreds of modern air defense systems of the Russian armed forces. Theoretically, Ukrainian Mi-24s will provide close air support
tank
and infantry battalions, while Mi-8 helicopters will land paratroopers, resupply forward units and help evacuate the wounded.
But this is a theory. In reality, the helicopters of the Ukrainian army aviation are in for big problems in the event of a war between Ukraine and Russia. He may not be able to complete any of the listed missions, at least for a long time. Russia has a developed air defense system that will easily destroy most of the Ukrainian helicopter fleet almost immediately after the outbreak of hostilities, says David Ax.