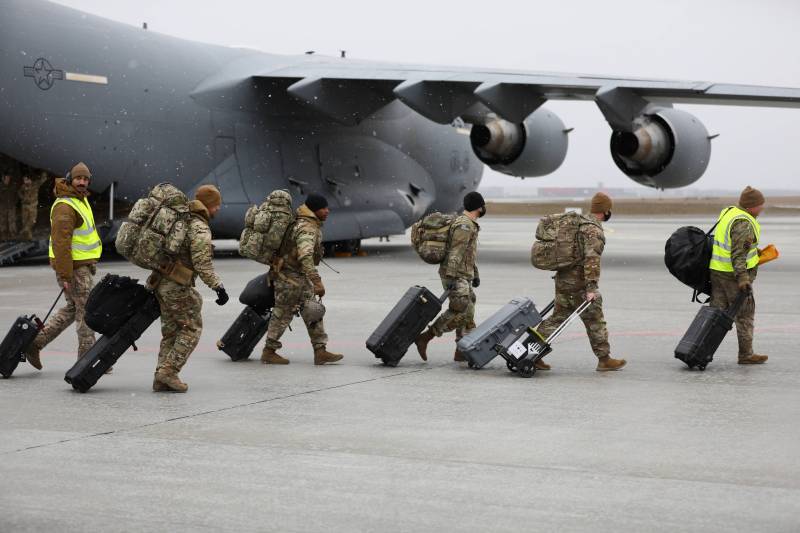 Statements about the withdrawal of American, British and Canadian troops from the territory of Ukraine may ultimately turn out to be just an informational cover for the upcoming operation in the Donbass. For the collective West, led by the United States, it is extremely important to ensure that in the so-called international public consciousness the idea that there will be no military personnel of NATO countries, not a single one, will be left in Ukraine in the coming days. And if the Ukrainian army starts a military operation against the LDNR, and Russia gives a decisive answer, then everything in the West will come down to statements that "here comes the aggression from Russia."
The situation is such that at the moment all information about the withdrawal of military instructors from the territory of Ukraine comes from the Western media. One of the very media outlets that, in just the last few days, have managed to be noted by a series of fake publications, including the "programmed false start" by Bloomberg with the material that the Russian army has already launched an attack on Ukraine.
In this regard, it is difficult to perceive as an unambiguous truth the publications of Western sources that military instructors from NATO countries have left or are leaving Ukraine. Western military personnel may well remain on the territory of a country neighboring Russia, moreover, new NATO soldiers and officers may also arrive there. And statements about the withdrawal of a foreign foreign contingent may be related to the fact that if a new major military adventure is launched by Ukrainian troops in the Donbass, then the same United States, Britain and Canada will have a reason to say that their authorities and their military command are ready for this " have absolutely nothing to do with it."
Against this background, attention is drawn to the publication in the British edition of The Telegraph, which states that "Russia creates conditions under which it should give the impression that Russian troops are only reacting to aggression from Ukraine and Western countries."
A British newspaper is now quoting MI6 claiming that Russia is looking for an excuse to "invade Ukraine". And after all, this publication comes against the backdrop of CNN's recognition that there can be no talk of any Russian invasion of Ukraine, but exactly what it is talking about is that "US intelligence is conducting a strategic information (disinformation) operation to contain Russia". It turns out that all statements about the withdrawal of military instructors from NATO countries from the territory of Ukraine fit into this "operation", which is actually based on fakes and stuffing in the media.