We all know perfectly well that a dolphin and a mermaid, no matter how it was sung in a popular song of past years, are not fish, nor meat, nor anything else. And in general, the union is more than peculiar.
Today we will talk about the development of the Central Design Bureau of Marine Engineering "Rubin". We are talking about the "Guardian", a project of a submersible patrol ship.
It cannot be said that this is a "breakthrough", "unparalleled", because the Guardian project is the second project. The first was developed as an export version and no one showed interest in it.
But in
stories
There are several other similar projects.
One project was called "Dolphin" and was developed during the Khrushchev era, who had the idea of ​​jailing engineers for creating a hybrid of a missile boat and a submarine.
The technologies of that time simply did not allow to build something sane, because the "Dolphin" remained an unrealized project. The designers themselves admitted that the boat turned out to be bad, and the submarine was even worse.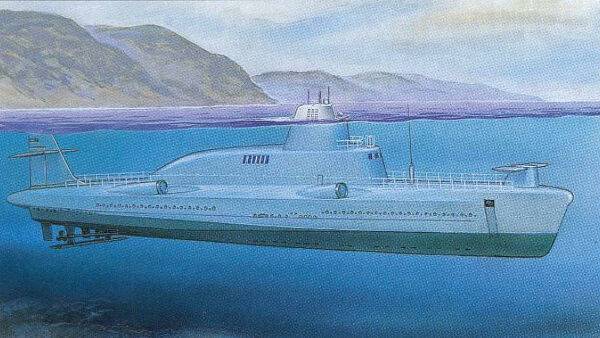 But even before the Dolphin, the project of the M-1939 Bloch submersible torpedo boat, which began in 196 in the special technical bureau of the NKVD at plant No. 400 in Leningrad (yes, Her Majesty Sharaga in action), was almost implemented. The boat began to be built in metal in 1940, at the beginning of World War II, the readiness was 60%, but during the war the boat was damaged by shelling and it was decided not to resume its construction.
And now, after "Flea" and "Dolphin" - "Guardian".
What is the new Rubin project? This is a very unique ship. "Flea" had a displacement of 74 tons. "Dolphin" - 600 tons. "Guardian" displaces 1300 tons of water. The length of the ship is 72 meters. It's hard to name a boat, the Molniya missile boat was 56 meters long and had a displacement of less than 500 tons. And here it is twice as much.
Armament "Guardian" combined. A small-caliber automatic cannon, which has not yet been announced, but it is clear that this is from 30 to 57 millimeters. Four 324 mm torpedo tubes. Two launchers for anti-ship missiles.
If you think about it, then the "Package-NK" on the ship will look very. A complex capable of working both on surface ships and on submarines with torpedoes is very relevant.
3S14 launchers are our everything. If the launchers are for the Onyx and Caliber - completely. Anything else doesn't make sense.
To top it all off, there are still airtight compartments-hangars in which you can place boats for inspection teams, additional weapons, or unmanned aerial vehicles.
All this is mounted on a fairly stable platform. The so-called wave-piercing stem (almost like the Zamvolt) and the negative obstruction of the sides give the ship additional stability plus reduce radar visibility. Bulb in the nose reduces water resistance and it is very convenient to install a hydroacoustic station in it.
Speed, however, according to the developer, the ship does not shine. The declared 21 knots are very few for a patrol ship. Neither catch up, nor, excuse me, escape.
Rubin claims that the ship is capable of traveling about 4 miles at a speed of 10 knots. If necessary, the range can be further increased.
We think.
In order to make it easier to think, we take for comparison an ordinary patrol ship of project 22160. Corvette. It is closer in size and displacement to the Guardian than any other ship.
The displacement of the corvette 22160 is slightly larger - 1500 tons. However, the dynamic performance is much better. The maximum speed is 25 knots. Patrol - 16 knots. Range at 16 knots - 6 miles.
As a walker on the sea, Vasily Bykov looks better than the Guardian. Further, faster, more trouble-free to catch up. 4 knots is, you know, a lot.
The armament of a "clean" corvette is also much more preferable. 76-mm gun mount instead of smaller caliber guns, 8 anti-ship missiles. How much "Guardian" has is not entirely clear. And the corvette has a hangar for a helicopter and, accordingly, a helicopter in this hangar. That Ka-29, that Ka-52 is a serious help for a ship performing patrol functions in the sea zone.
In general, compared to a normal corvette, the Guardian does not look at all.
However, one should not immediately say that the idea of ​​the Rubin designers is stupidity. There is a rational grain in the project, the only question is how to use this ship.
And in general, it is worth noting, by the way, that the development of the "Guard" in the Central Design Bureau of MT "Rubin" was optional. That is, it did not cost the country's budget a single ruble. It is like a digital testing ground for working out ideas that could not be implemented in the past. Times are changing, so that what was beyond the power of shipbuilders in the 50s of the last century, today can be quite feasible.
So, we have a corvette-displacement ship with mixed missile and torpedo armament, capable of submerging under water for an indefinite time and moving there.
We have patrol corvettes of about the same displacement, with stronger armament and faster. We have submarines (the same "Varshavyanka"), which are uniquely designed to operate from under water, large in size and displacement, but slower than this hybrid ship.
And where can we confidently use a ship like the Guardian?
Definitely drawn is not a patrol ship, but something else. The practice of using such a ship is ambush operations in shallow water conditions.
Such a ship can, using its real stealth, monitor ships and ships of the enemy, and attack. Interception is also possible, but here, of course, speed is important.
The ability to move underwater can be used in a variety of ways.
Firstly, to leave the surface when a sudden wave began and wait out the same storm without interrupting patrols - this is interesting.
Secondly, in combat contact with the enemy, diving under water can allow you to escape from missiles or artillery
weapons
.
Thirdly, covert movement makes it possible to quietly approach enemy ships and vessels. Plus, moving under water unequivocally hides the ship from airborne surveillance. This means that there is the possibility of using it for operations in shallow water, such as laying mines or landing underwater saboteurs.
Place? Such a ship could feel very well in the shallow waters of the Baltic, indented with skerries and replete with islands. Or such ships could feel very good on the same Kuril ridge.
If you look at the drawings of the projects, it becomes clear that the first project of the "Guard" is a submarine, which was given some features of surface ships. The second ship has the distinct structure of a surface ship that has been given the function of a submarine.
In general, if you look again at history, then the first normal combat submarines of the First World War were diving rather than underwater. They spent most of their time on the surface, moving towards the enemy, charging batteries and so on.
Modern technology can significantly increase the stay of boats under water, but above water they are not as fast as under water. Narrow specialization affects. And nuclear submarines and generally under water have a greater speed than on the surface.
So, first of all, the Guardian-2 project should be subject to reflection. The fact that a project of such a ship has been theoretically created that is capable of operating both above and below the surface of the water, first of all, it is worth answering a number of questions.
1. How realistic is the construction of an operating ship according to such a project and its mass production.
2. The cost of the ship. If it will have the price of three submarines, then it is worth thinking about the advisability of working on such a ship in general.
3. Operating conditions. Including the cost of maintaining such ships.
4. Application. There must be a clear understanding of where and in what capacity such a ship can be most effectively used.
Only after all these questions have been answered, does it make sense to say that we have developed another "wonder weapon", naturally "unparalleled in the world."
Yes, indeed, there are no analogues in the world. But it is quite possible that no one simply needs them. There are countries that have achieved very significant success in the development of ships of various classes. But the fact that so far no one is developing and building ships of this class does not mean that we are "ahead of the rest of the planets."
However, it is absolutely not worth saying that the project will not be in demand at all. Personally, I think that the project is the essence.
Today, ships are getting smaller and more and more technology is focused on making ships less visible.
To remove surface ships from the zone of maximum effective destruction is the main task of tomorrow. Why not put it under water? If there is such an opportunity technologically - not the worst option.
Moreover, it really will not be a submarine, but a diving surface ship. An ideal fighter for work from an ambush.
Expressing your opinion in the comments
news
about the Guardian-2 project, many spoke very critically, not to say negatively.
Let's put it this way: TsKB MT "Rubin" has developed more than one project that was not just successful, but excellent. "Squid", "Antey", "Shark", "Borey" ...
This is an interesting project, created within the walls, where initially, starting from 1901, they knew how to build submarines. So it makes sense to just wait until time shows how interesting and viable this project was.
It is quite possible that a diving patrol ship is not a fantasy, but a reality of tomorrow.