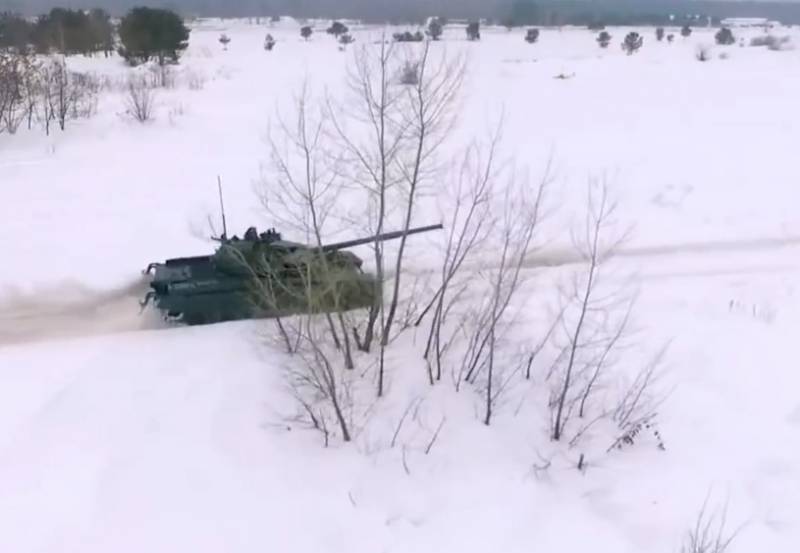 At one of the training grounds in the Kharkiv region, units of the 92nd separate mechanized brigade of the Armed Forces of Ukraine took part in company tactical exercises, conducting live firing. The servicemen were training to repel the offensive of the "conditional enemy".
This was reported by the ArmiyaInform news agency belonging to the Ukrainian defense department.
In these exercises, the Armed Forces of Ukraine used for the first time
Tanks
T-64BM2 Bulat.
According to the scenario of the maneuvers, the enemy crossed the state border of Ukraine and moved in the direction of strategic facilities. After receiving the order and taking into account the intelligence data, the military personnel of the Armed Forces of Ukraine as part of a company tactical group, to which tank and artillery units were attached, as well as anti-aircraft gunners, advanced to a given area.
Arriving at the scene, they, as stated, destroyed the enemy with the help of T-64BM2 tanks, BTR-4E armored personnel carriers, 2S1 Gvozdika self-propelled guns and other available weapons. Armored personnel carriers and tanks successfully carried out the march, lined up in battle formation and, supported by artillery fire from closed positions, fired at several dozen targets. At least one Strela-10 short-range air defense system was used to cover the troops.
In total, up to 150 military personnel and dozens of units of military and special equipment were involved in the exercises. It is not reported what forces of the conditional enemy they opposed at the same time. It is also not reported what military equipment, according to the scenario of the Ukrainian exercises, was used by this "conditional adversary".