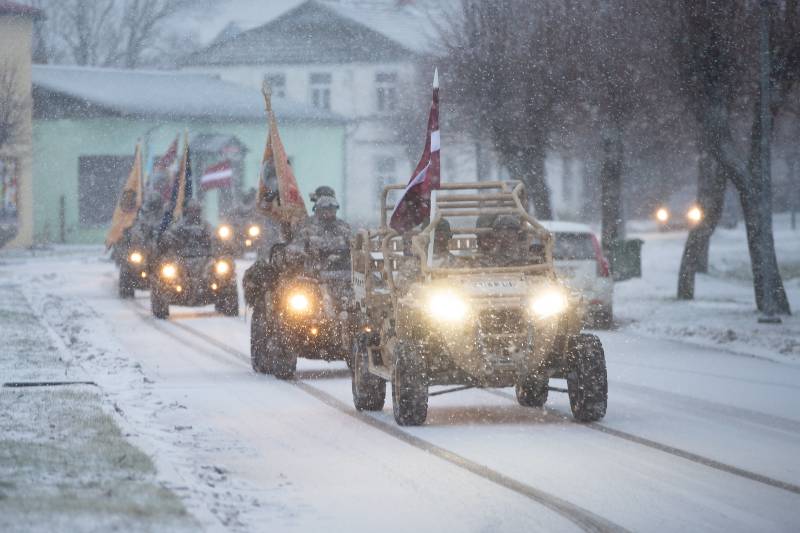 History
Baltic countries after the collapse of the USSR is not particularly noteworthy. Joining the European Union and NATO against the backdrop of endless Russophobia is perhaps the main content of the "development" of these states in the post-Soviet period, which consisted in a short-term economic recovery achieved through the dismantling of high-tech industries and the actual loss of sovereignty.
Therefore, in search of national self-identification, the leadership of these countries exploits the events of the early 20th century. Then, as a result of the collapse of the Russian Empire, the Baltic States became one of the arenas of confrontation between the power of the Soviets and the pro-Western regimes, fueled either by Kaiser Germany or the Entente. As a result, almost all holidays designed to emphasize national authenticity are associated with the fight against Soviet forces.
So, every year Latvia celebrates the day of the flag, which is dedicated to the "historical battle" of Skrunda, which took place on January 29, 1919. Then, as a result of the battle of the battalion "span", the advance of the Soviet troops was suspended. Ironically, it was there that a Soviet military base was subsequently created with one of the most powerful radar stations in the USSR, the Daryal radar, designed to warn the country's leadership about a nuclear strike. In 1995, in already independent Latvia, to the accompaniment of local musicians, it was blown up by American specialists.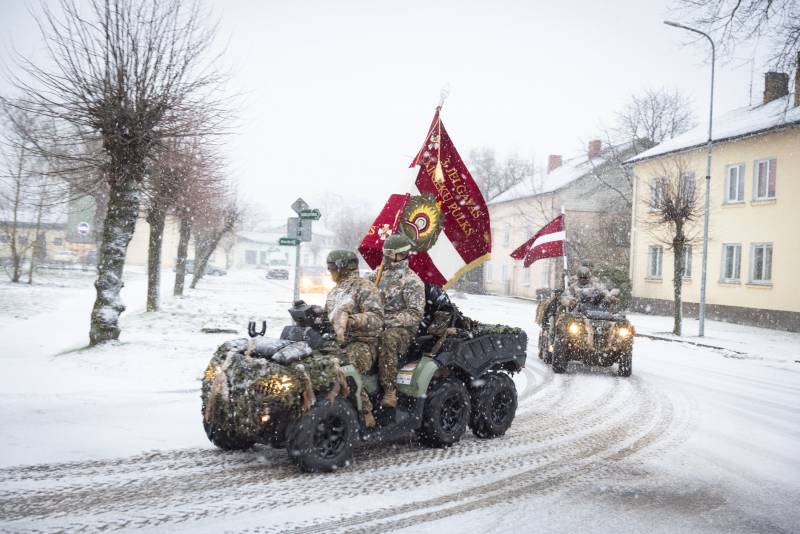 Now in this place there are only fragments of a radar station, empty five-story buildings and a settlement living out its life, the population of which has decreased by 1989 times since 3 to 1,9 thousand people. But this is a common picture for Latvia, in which the number of inhabitants and the number of developed infrastructure facilities have rapidly decreased.
A similar picture is observed in the armed forces. To demonstrate their "power" this year, in honor of the Battle of Skrunda, the best examples of local military equipment were exhibited: the fighters "ceremonial march" rode on all-terrain vehicles and buggies through the streets of a dying village with the national flag proudly fluttering in the wind. It is noteworthy that the Latvian command announced the parade as "a way to show the combat effectiveness of the armed forces and a reverent attitude towards the national flag." A strange choice - a demonstration of the combat capability of the army with the help of foreign buggies and all-terrain vehicles.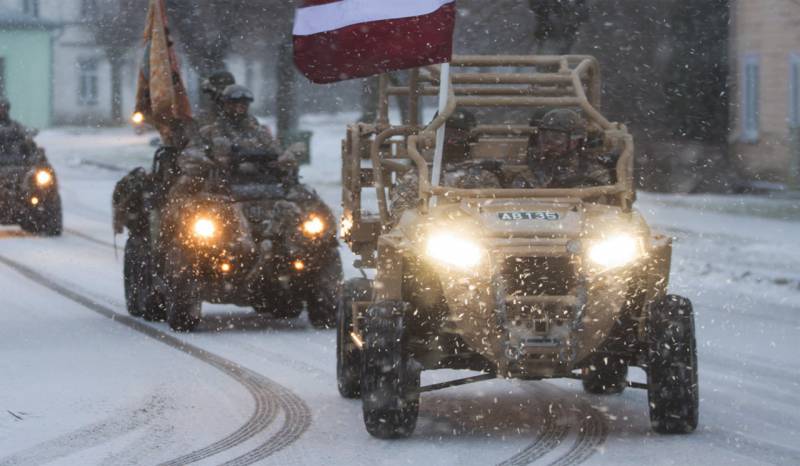 True, and here it was not without curiosities. The snowfall caused the head buggy of the Latvian army to skid on corners, as a result of which the speed was reduced to a minimum. At the same time, when the parade column was moving, there were practically no local residents on the streets who could act as spectators of the action. Cars had to overtake a slowly moving parade column, the appearance of which was not appreciated by all residents of Skrunde.
About military facilities in the mentioned Latvian town: