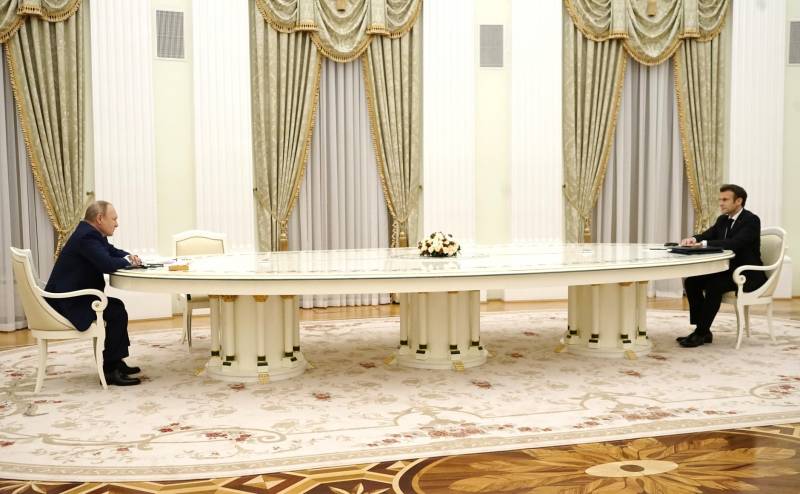 The Western press publishes material with a very original attempt to analyze the features of the visit of French President Emmanuel Macron to Russia. Reuters journalists, referring (which has already become a tradition) to some unnamed sources, issue an article stating why the handshake between the presidents of France and Russia did not take place.
Unnamed sources of the mentioned Western agency claim that Emmanuel Macron was offered to take a PCR test so that there would be an opportunity for a "traditional meeting" - with handshakes and without observing the so-called social distance. But, as stated, Macron refused a PCR test in Russia, "because representatives of the French administration could not allow the president's DNA to fall into Russian hands."
Perhaps this is the most "original" explanation of why Vladimir Putin and Emmanuel Macron sat at a huge table diametrically opposed to each other.
The material of the Western media claims that Paris made sure that the biological samples of the president did not end up "in the Russian database of biometric materials."
From the material:
The President of France, on the basis of refusing to conduct testing, had to maintain a strict social distance in the Kremlin.
The Western media claims that Macron was ready to be tested only in cooperation with his own doctor, which he allegedly did before visiting the Russian capital.
With such a presentation of information, we should expect materials from the Western media about how the Kremlin tried to read the data on the retina of President Macron's eyes, carried out work to remove fingerprints from objects that he touched ...
A few comments from readers about this publication in foreign media:
Yes, Macron has already inherited everywhere ...
And if suddenly a hair fell from Macron's head in the Kremlin. What will happen to France now?
Probably, Paris took the waste products with him