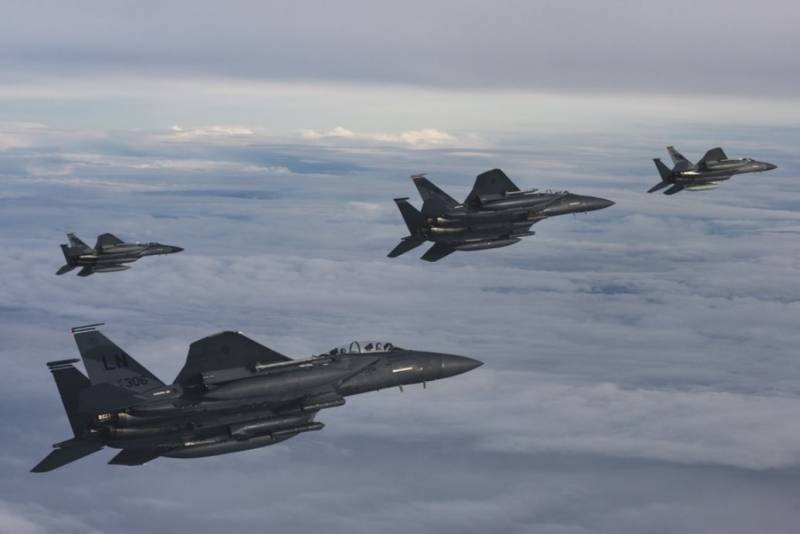 US Air Force F-15 fighter planes were sent to Poland from the UK as part of a mission to strengthen the defense capability of NATO's eastern flank. The main task of deploying aircraft at the Polish airbase Lask is to counter the so-called Russian military threat. Fighters are planned to be used in regular patrols of the Baltic airspace.
The American press does not rule out the possible participation of the F-15 fighters transferred to Poland in the defense of Ukraine in the event of a Russian "attack". Aircraft can take part in operations or divert the attention of the Russian military to themselves. Also, the deployment of F-15 aircraft in Poland is seen as a response to the military maneuvers of Russia and Belarus. This opinion is voiced by the American columnist Thomas Newdick.
F-15Cs and F-15Ds from the 48th Fighter Wing, usually based at RAF Lakenheath in England, were deployed to Poland. They will have to interact with the aircraft of the Polish Air Force and the Royal Danish Air Force. Danish and Polish fighters fly from a base in Siauliai, Lithuania, ensuring the security of the airspace of Estonia, Latvia and Lithuania. US F-15s are known to have arrived in Poland carrying AIM-120 medium-range air-to-air missiles (AMRAAM).
American Command
aviation
specifically mentioned the need to contain Russia in the region and emphasized the readiness of the aircraft to work with other US allies in NATO, which will consist in practicing air-to-air and air-to-ground operations. The planes will operate as part of the "air police" mission, which was launched in 2014 after the events in Crimea and involves US aviation supporting the air forces of friendly Eastern European countries. The commander of the US Air Force in Europe and Africa, General Jeff Harrigian, noted that the appearance of new aircraft will strengthen the collective defense on the eastern flank of the North Atlantic Alliance.
The American observer notes that Russia has increased its military presence on the border with Ukraine and has concentrated significant forces in Belarus for maneuvers. It is also noted that MiG-31 Russian Aerospace Forces are deployed in Kaliningrad, which the United States calls a response to the movement of NATO troops on the territory of several states of Eastern Europe.
While the F-15s were being transferred to Poland, four US Air Force B-52H strategic bombers from the 5th Bomber Wing stationed at Minot Air Force Base, North Dakota, arrived in the UK. Their appearance, as noted by the American press, will also increase the potential of NATO forces in Europe.