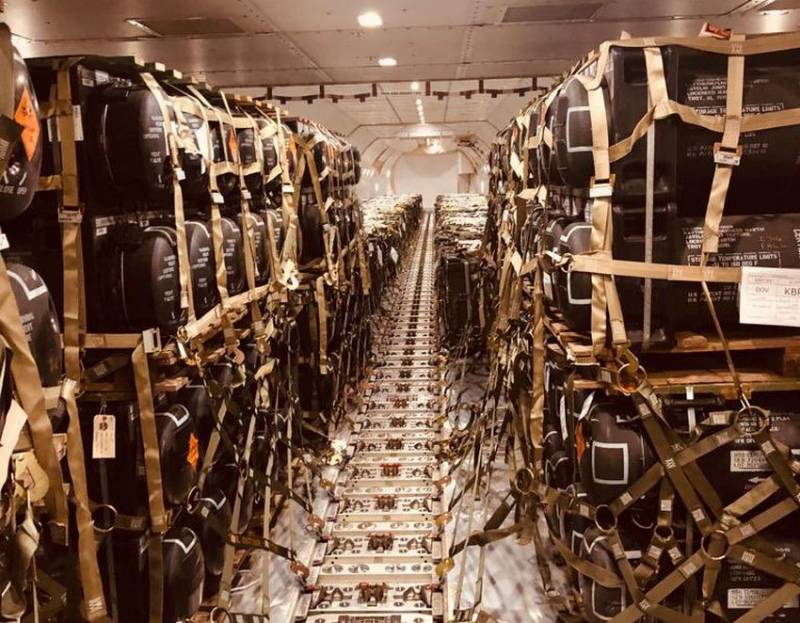 The United States, along with allies, continue to pump Ukraine
weapons
, another military transport aircraft with military assistance landed in Kiev. This was announced by the Minister of Defense of Ukraine Oleksiy Reznikov.
The head of the Ukrainian military department dedicates a separate entry on Twitter to the arrival of each aircraft, so it is easy to track how many aircraft have arrived in Ukraine at the moment and with what cargo. After the arrival of two regular aircraft from the United States, Reznikov wrote, to date, 15 aircraft have arrived in Kiev, which brought 1200 tons of military aid. And this is not the limit, further deliveries are expected in Kiev.
Another military aid with a total weight of 130 tons, sent from the United States, included ammunition, which is not exactly reported, grenades, apparently for 40-mm grenade launchers and Javelin anti-tank systems, with which the United States is literally flooding Ukraine. Earlier, the same Reznikov already boasted that the Armed Forces of Ukraine had more weapons than potential targets.
The United States explains the supply of arms to Ukraine by the desire to provide it with the means to protect itself from "Russian aggression", adding a few more phrases about "defending democracy", "the right of nations to defend", "territorial integrity and sovereignty". However, this is an external side, in fact, the supply of arms to the United States solves several problems at once, including the desire to push Ukraine against Russia, get rid of old weapons, freeing up arsenals for new ones, obtain funds for the production of new weapons, etc.
In Kiev, they continue to rejoice at every arriving plane, forgetting that you have to pay for everything, even for supposedly free deliveries. And Washington will certainly demand to pay for everything delivered, not in money, but in services. In the USA they know how to count money, examples in
stories
a lot of.