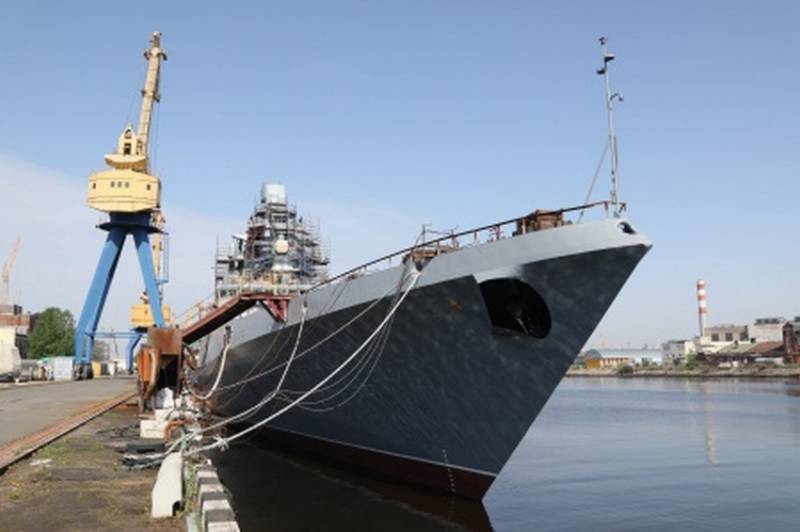 The fleet has finally decided on the timing of the commissioning of the first full-time surface carrier of hypersonic missiles "Zirkon" - the newest frigate of project 22350 "Admiral Golovko". The ship will become part of the Northern
fleet
.
The third ship in the series of Project 22350 frigates and the second serial ship after the lead Admiral Gorshkov and the first serial Admiral Kasatonov, the Admiral Golovko will enter the fleet this year. Reportedly
"News"
citing a source in the military department, the plan for completing the frigate and testing was approved.
As specified, the crew of the frigate is completing training and is preparing to pass tests, the frigate is undergoing outfitting work. Tests are planned for autumn and should be completed before the end of the year. After raising the Andreevsky flag, the Admiral Golovko will go to Severomorsk, where it will join the 43rd missile ship division of the Northern Fleet. At least that's what the sources say. For the frigate in Severomorsk, the infrastructure necessary for basing is being prepared.
"Admiral Golovko" was laid down on February 1, 2012, launched on May 22, 2020. Unlike the head "Admiral Gorshkov" and the first serial "Admiral Kasatonov", which have Ukrainian gas turbine units (GTU), the "Admiral Golovko" has a completely Russian power plant. According to open information, the main power plant of the frigates of project 22350 is a GTDA with a total capacity of 65 thousand liters. With. and diesel generators with a total capacity of 4 kW.
The frigate is named in honor of Arseniy Golovorovich Golovko (1906 - 1962), a sailor - a surface naval commander of the Northern Fleet during the Great Patriotic War.