For the implementation of the movement and transportation of goods and people along the Arctic coast, not an ordinary vehicle is required, but a special means of transportation capable of working in harsh conditions for a long time. This tool is very necessary for Arctic studies and the Coast Guard of the United States and Canada.
Artik today is a strategic direction - there are rich deposits of minerals and places rich in fish. Now for the implementation of the possibilities of conquering the Arctic there is a very limited number of equipment and machinery.
The company ARKTOS Craft presented at the special event held in the framework of the coastal defense equipment in the city of Barrow, Alaska, the machines created by it — the Arktos all-terrain vehicles.
Arctic all-terrain vehicles are machines of two-part articulated execution. Two sections of a separate type, made as one unit - all-terrain vehicle, allow to expand the possibilities of its application. Machines are manufactured from 1993. Six similar all-terrain vehicles, acquired for three million dollars, are already working for an oil company. The machine is controlled by a remote that resembles a joystick.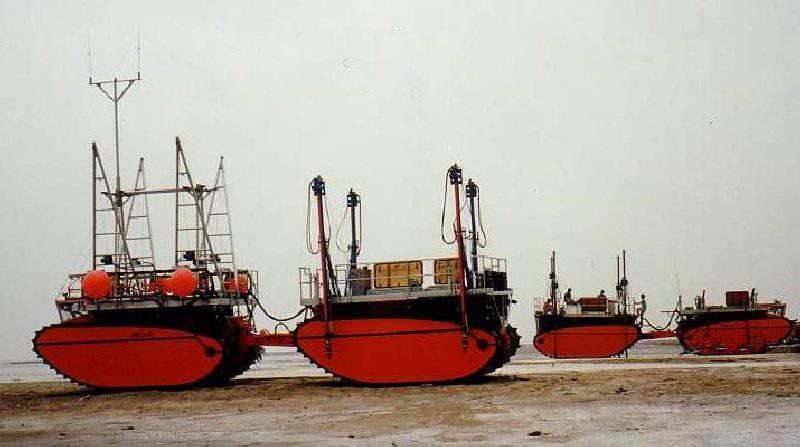 ARKTOS ATVs have already proven the possibility of full application. The tests showed a high level of mobility during the transition from water to ice and vice versa. Due to its design, it has high maneuverability when moving on ice, crossing irregularities and slopes. Sections are made of reinforced plastic. Each section has a separate power supply from the diesel engine.
The ARKTOS is able to evacuate or move up to 52 people or about 5 tons of oversized cargo to hard-to-reach places or up to 10 tons on a relatively flat surface or water.
ATVs are made in different versions to perform different tasks. The all-terrain vehicle for the coast guard has slightly reduced sections, but has become more mobile.
In addition to this all-terrain vehicle, an amphibious all-terrain vehicle, developed by Alaska Amphib together with Tyler Rentals, was presented at the event. It is smaller than all-terrain vehicle "ARKTOS". AmphibAlaska has a length of 6 meters and a weight not exceeding 8 tons. It is designed to perform tasks on land and water at a speed of 30 km / h. The hull is an amphibious all-terrain vehicle of the ship type, 12 inch caterpillars move up in water.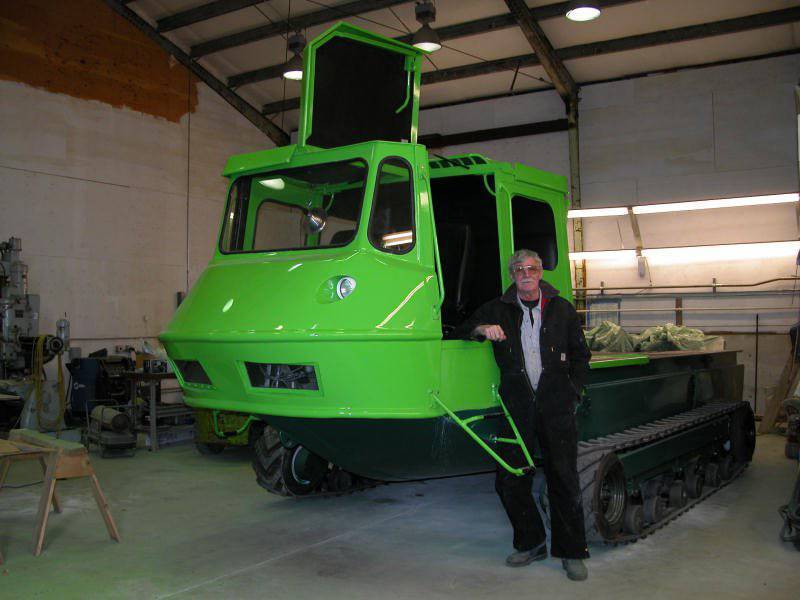 The all-terrain vehicle was specially created for operation in the units of coastal defense located in Alaska. Amphibious all-terrain vehicle can be transported by air or surface to its destination.
Both all-terrain vehicles in propulsion systems have water filters. Water in arctic latitudes can destroy / disable the outboard engines / motors of ordinary boats.
Main characteristics of the ARKTOS all-terrain vehicle:
- length - 15 meters;
- weight - 32 tons;
- maximum payload up to 10 000 kilogram;
- capacity up to 52 people.
Information sources:
http://www.arktoscraft.com/gallery.htm
http://www.facebook.com/pages/ARKTOS-Amphibious-Craft/120685691294524?sk=info
http://rnd.cnews.ru/tech/news/line/index_science.shtml?2012/08/27/500754
http://www.youtube.com/watch?v=RO6ACfO9HfE
http://www.youtube.com/watch?v=lyFIf_mhB9w